This is an industrial USB to RS485 converter with original FT232RL inside. It features embedded protection circuits such as lightning-proof, resettable fuse, ESD protection, and TVS diode, etc. It's pretty small in size.

USB to RS485 communication
Adopt original FT232RL, fast communicating, stable and reliable, better compatibility
Onboard TVS (Transient Voltage Suppressor), effectively suppress surge voltage and transient spike voltage in the circuit, lightning-proof & anti-electrostatic
Onboard self-recovery fuse and protection diodes, ensures the current/voltage stable outputs, provides over-current/over-voltage proof, improves shock resistance
3 LEDs for indicating the power and transceiver status
Product type: industrial converter
Baudrate: 300-921600bps
Host port: USB
Device port: RS485
USB:

Operating voltage: 5V
Connector: USB-A
Protection: 200mA self-recovery fuse, ESD protection
Transmission distance: about 5m

RS485:

Connector: screw terminal
Pins: A+, B-, GND
Direction control: hardware automatic control
Protection: 600W lightning-proof and surge-suppress, 15KV ESD protection (onboard 120R balancing resistor)
Transmission distance: about 1200m (low rate)
Transmission mode: point-to-multipoints (up to 32 nodes, it is recommended to use repeaters for 16 nodes or more)

LED indicators:

PWR: red power indicator, light up when there is USB connection and voltage is detected
TXD: red TX indicator, light up when the USB port sends data
RXD: red RX indicator, light up when the device ports send data back

Operating environment:

Temperature: -15℃ ~ 70℃
Humidity: 5%RH ~ 95%RH

Operating system: Mac, Linux, Android, WinCE, Windows 10 / 8.1 / 8 / 7 / XP
Connect the module to host PC, check Device Manager, if the device is listed with the yellow exclamation mark, it means that the driver was not installed.
Download the driver form

#Resources

, unzip, and install it.
After installing, you can find that the mark disappeared and a COM device is listed
RS485
You should prepare two RS485 device
Connect A+ to A+, B- to B-, and connect them to host PC.
Run SSCOM software to test.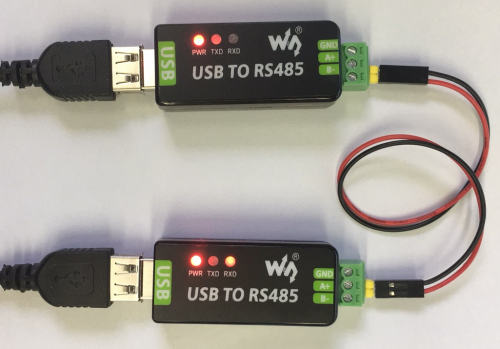 Expected result