The Pico-UPS-B is a dedicated UPS (Uninterruptible Power Supply) module designed for Raspberry Pi Pico. It incorporates a Li-po battery switching charger with power path management, and a voltage/current monitoring chip that allows monitoring the battery operating status via the I2C bus. What's more, the male pin header makes it possible to "stack" other modules on top.
Standard Raspberry Pi Pico header supports Raspberry Pi Pico series boards
Incorporates Li-po battery switching charger with dynamic power path management, more stable power supply
I2C bus communication, monitoring the battery voltage, current, power, and remaining capacity in real-time
Multi battery protection circuits: over charge/discharge protection, over current protection, short circuit protection, and reverse protection, more safe and stable
Onboard recharging indicator, power indicator, easy to check the battery status
Recharge voltage: 5V
Control bus: I2C
Battery support: 600mAh 3.7V Li-po battery
Dimensions: 60 × 21mm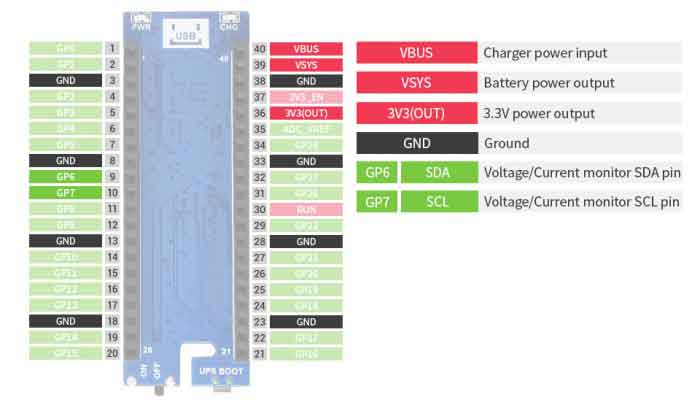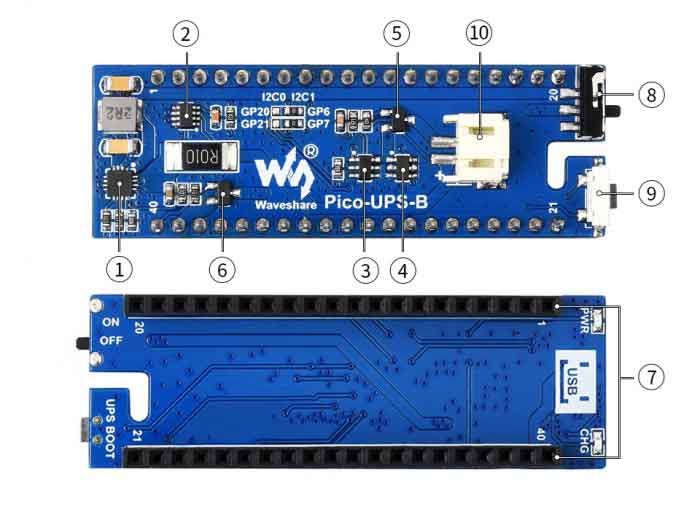 You can refer to the guides of Raspberry Pi: https://www.raspberrypi.org/documentation/rp2040/getting-started/

Access Raspberry Pi and open the terminal
Download the download and unzip it to the Pico C/C++ directory. You need to follow the guides of Raspberry Pi to install SDK first.
wget -P ~/pico https://www.waveshare.com/w/upload/9/92/Pico-UPS-A.zip
cd ~/pico
unzip Pico-UPS-A.zip

Press the BOOTSEL button of Pico and connect the Pico to your Raspberry Pi by USB cable and then release it.
Build and run the C examples
cd ~/pico/Pico-UPS-A/c/build/
cmake ..
make
sudo mount /dev/sda1 /mnt && sudo cp Pico_UPS.uf2 /mnt && sudo sync && sudo umount /mnt && sleep 2 && sudo minicom -b 115200 -o -D /dev/ttyACM0

The expected result should be as figure below:
Access Raspberry Pi and open the Thonny.
Open the example by the IDE and save
Click the Run button to run the codes