【Overview】

[] WP90 Servo is a mini and compact servo motor with a sleek and durable design. It operates reliably within a working voltage range. It offers fast response speed and high torque output, with a stall torque of up to 2.3kg.cm, enabling precise and powerful motion control. In terms of control, the servo motor utilizes a pulse width modulation (PWM) control signal and provides 180-degree angle control. The control system employs a digital comparator to ensure accurate angle control and stable performance. Additionally, the servo motor is equipped with electronic protection function, automatically outputting protective torque in case of a stall, effectively safeguarding the servo motor and the system's safe operation. It is suitable for applications in small robots, remote-controlled models, pan-tilt systems, cameras, and other control fields.
【Features】

[] Equipped with a digital comparator control system, it achieves precise angle control and positioning, ensuring accurate and stable movement.
[] Built-in metal gears and ball bearings provide durability and reliability, suitable for prolonged and frequent operations.
[] It is suitable for various fields, including robotics, model making, aviation modeling, smart homes, and more.
[] High flexibility with a 180-degree rotation angle and adjustable control parameters to accommodate various needs.
[] The compact and sleek design enhances the aesthetic appeal of the product.
【Specification】

[] Power input: 4.8~6V
[] Mechanical limited angle: no limited
[] Rotation angle: 180°
[] Gear type: high-precision metal gear
[] Idling speed: 0.125sec/60°(80RPM)@4.8V ~0.1sec/60°(100RPM)@6V
[] No-load current: 120mA@4.8V~150mA@6V
[] Locked-rotor current: 1A
[] Locked-rotor torque: 1.89kg.cm(4.8V)~2.3kg.cm(6V)
[] Dimensions: 23.2×12.1×25.5mm
[] Weight: 13.0± 1g
【Application Examples】

[] The servo can be used in scenarios or products with limited space.
[] Ideal choice for building quadruped robots, hexapod walkers, robotic arms and other robotic projects requiring multiple servos
[] * for reference only, please refer to the part list for detailed package content.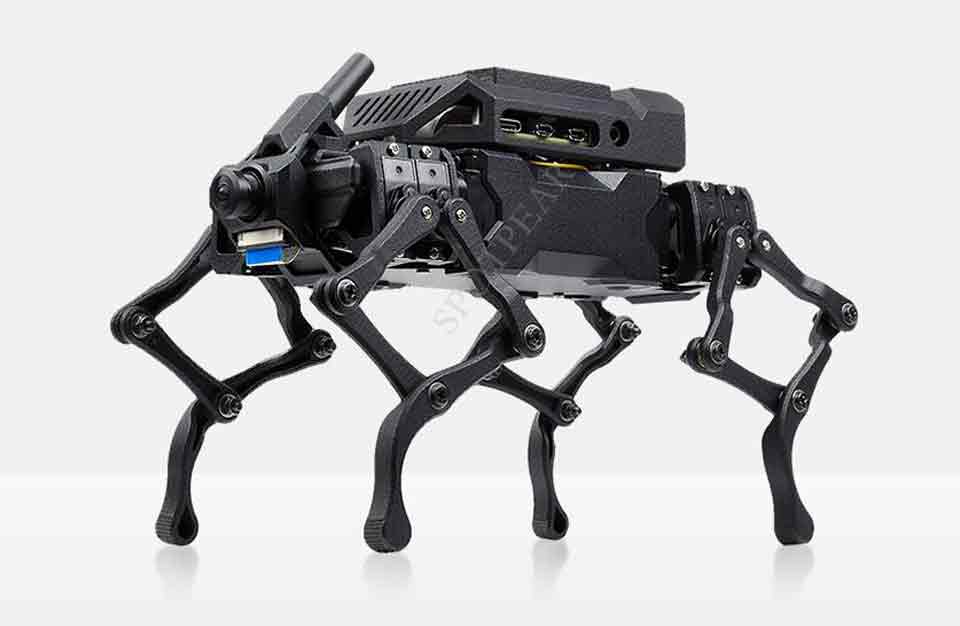 【Allows Controlling Up To 16 Servos At The Same Time Via Raspberry Pi Servo HAT】

[] * for reference only, the Raspberry Pi and Servo Driver HAT are NOT included.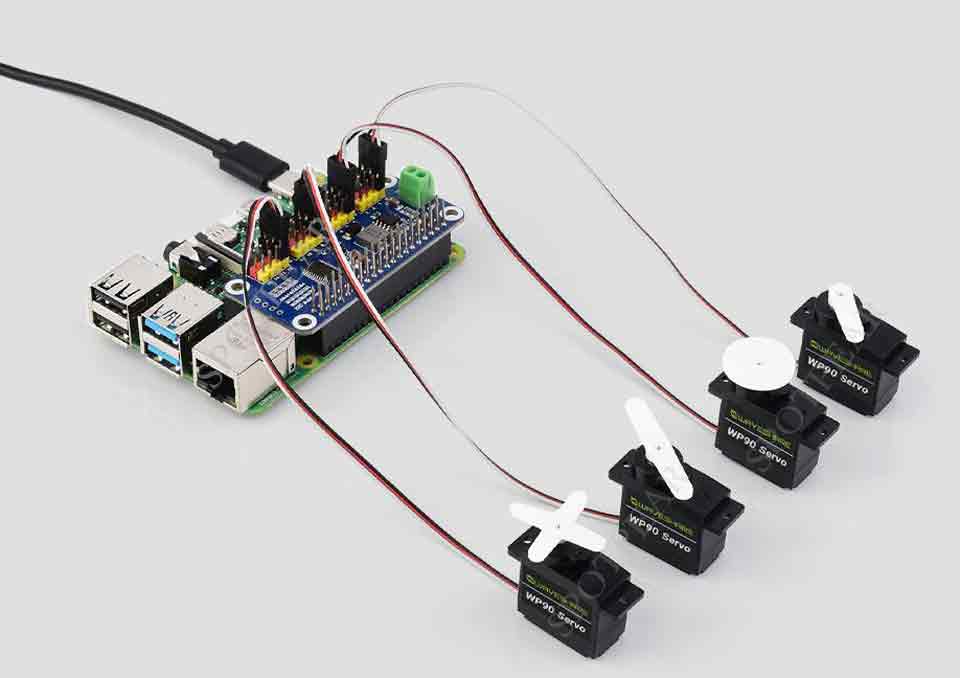 【Lightweight & High Strength Structural Design】

[] The WP90 Adopts A Tough, Durable, And Rigid ABS Case, Ensures Structural Strength While Reducing Its Own Weight, Allows More Flexible Use In Weight-Sensitive Scenarios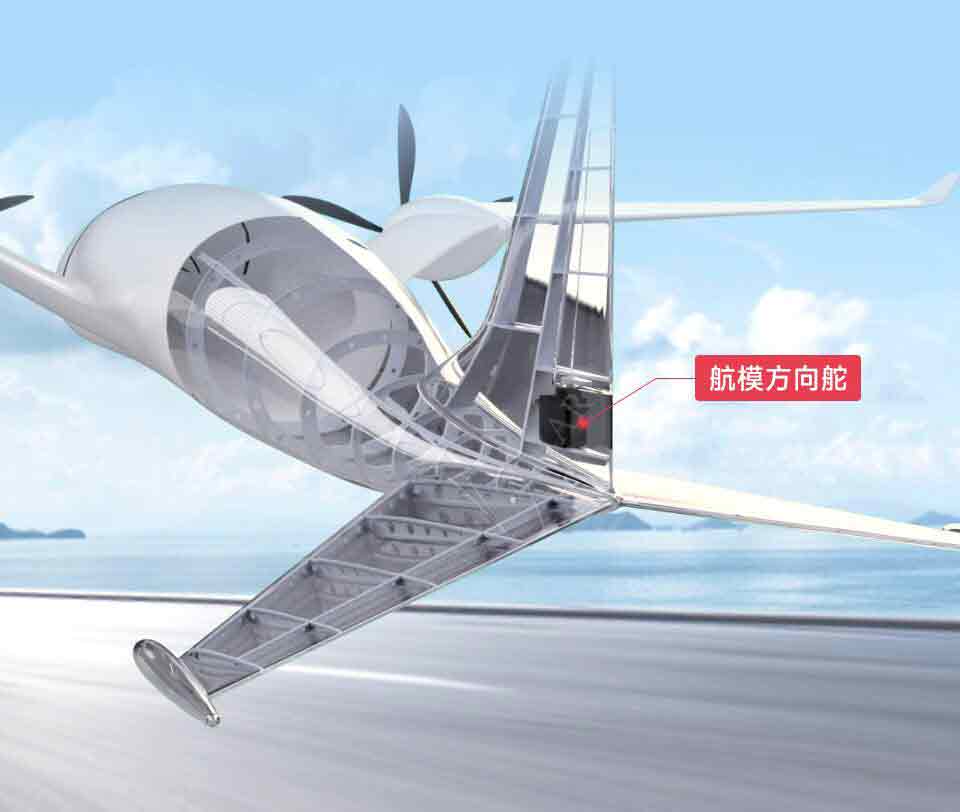 【High-Reliability Gear Reduction Group For Longer Lifetime】

[] Adopts high-precision and high-strength metal reduction gears to ensure smooth movement, features excellent reliability. The gear group can provide superior performance and long service life for the device in various environments.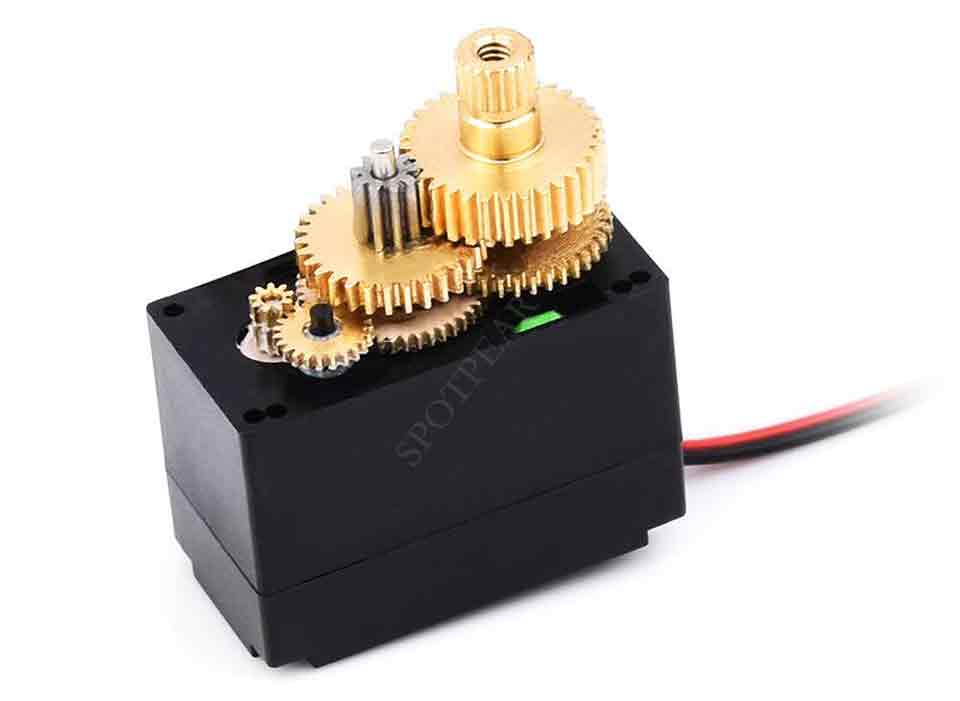 【Comes With Multiple Servo Arms More Flexible Assembly Methods】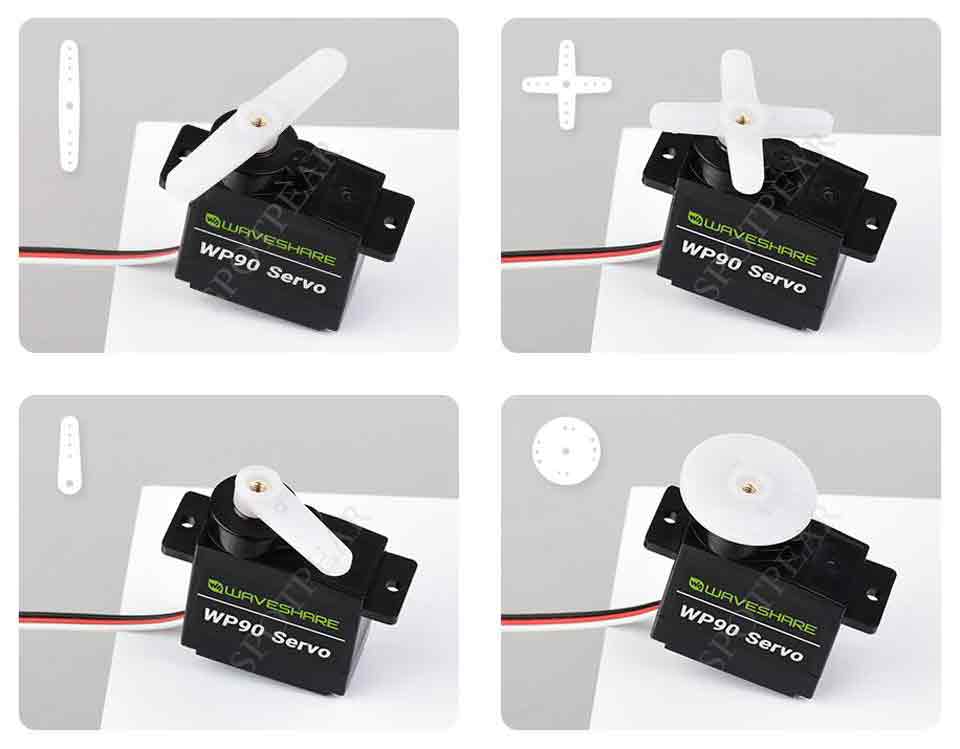 【Outline Dimensions】