Note: On-board with RP2040 microcontroller chip , Which mean you do not need a raspberry pi pico board to control it.
Overview
RP2040-LCD-1.28 is a low-cost, high-performance microcontroller board.
On-board 1.28inch LCD circular screen, lithium battery charging chip, six-axis sensor (three-axis acceleration and three-axis gyroscope) and other peripherals, lead out all GPIO and Debug interfaces, and integrate it into end products quickly.
Features
RP2040 microcontroller chip designed by Raspberry Pi
Dual-core Arm Cortex M0+ processor, running up to 133 MHz
264KB of SRAM, and 2MB of on-board Flash memory
Type-C interface
On-board 1.28-inch 240 × 240 resolution, 65K color IPS LCD display for clear color pictures
On-board lithium battery charging and discharging interface
All GPIO are led out through 1.27 pitch female headers
(30 in total, but some pins have been connected to internal circuits,
you need to pay attention when multiplexing, please refer to the wiki for details)
USB 1.1 with device and host support
Low-power sleep and dormant modes
Drag-and-drop programming using mass storage over USB
2 × SPI, 2 × I2C, 2 × UART, 4 × 12-bit ADC, 16 × controllable PWM channels
Accurate clock and timer on-chip
Temperature sensor
Accelerated floating-point libraries on-chip
8 × Programmable I/O (PIO) state machines for custom peripheral support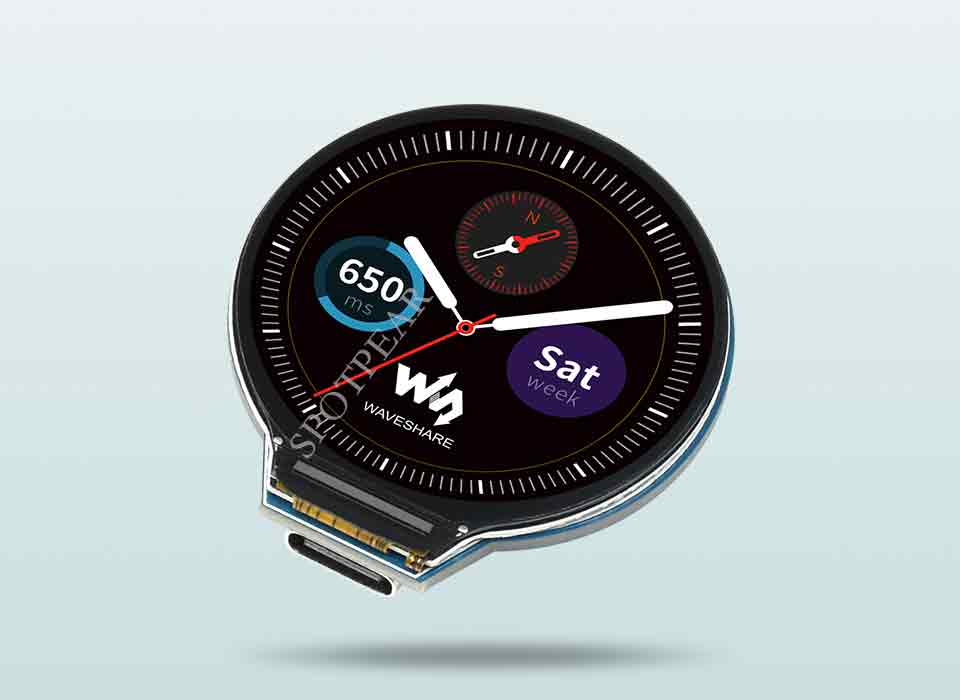 C/C++, MicroPython Support
Comprehensive SDK, Dev Resources, Tutorials To Help You Easily Get Started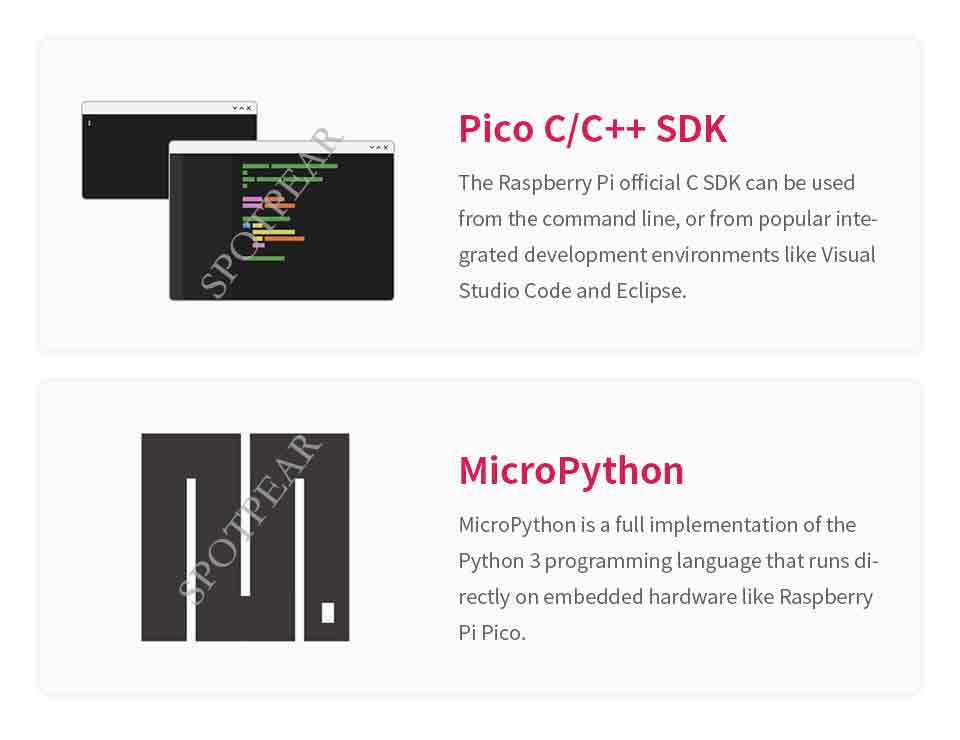 Dual-Core Arm Processor
Dual-Core Arm Cortex M0+ Processor, Running Up To 133 MHz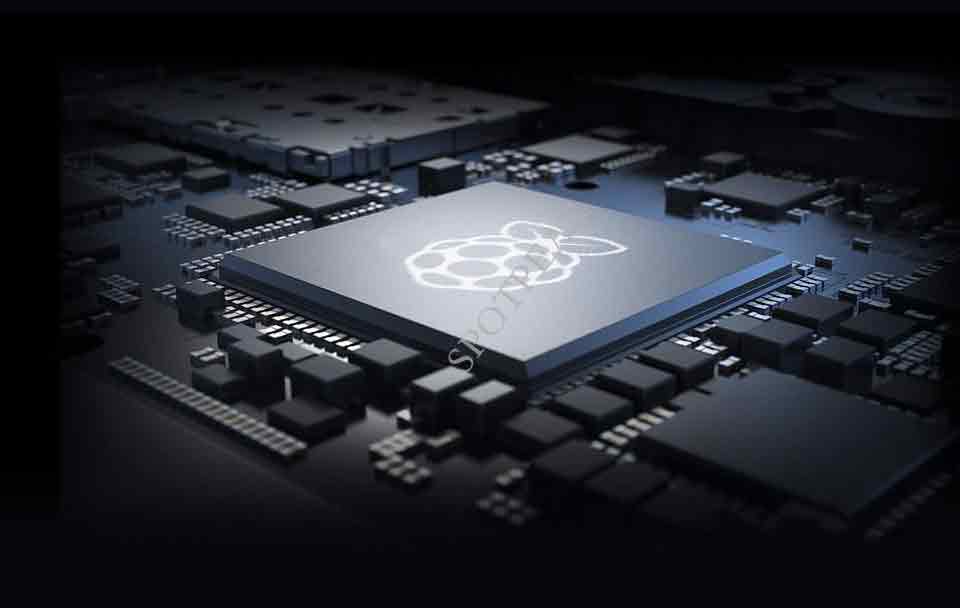 30 × Multi-Function GPIO Pins
Configurable Pin Function, Allows Flexible Development And Integration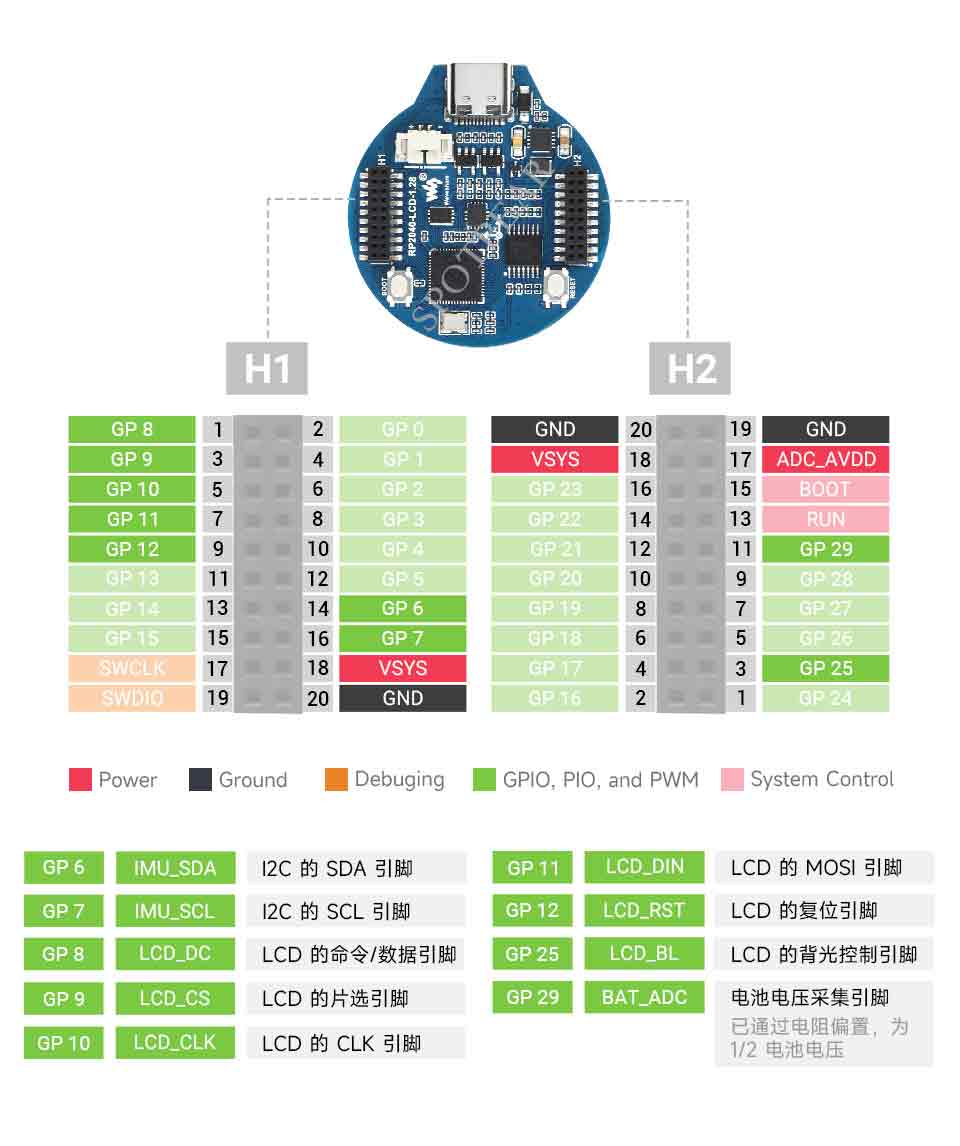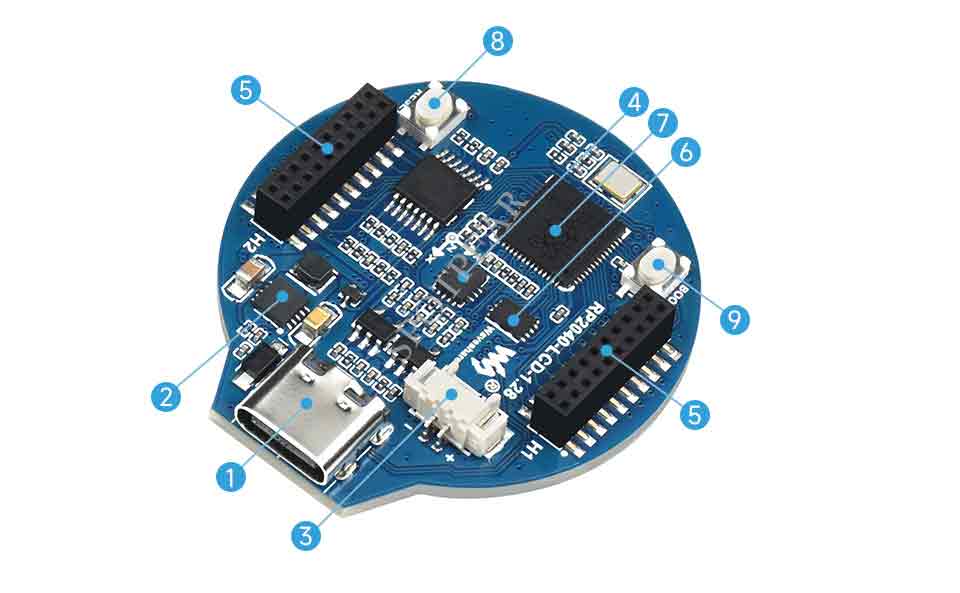 | | |
| --- | --- |
| USB Type-C | USB Type-C interface, Support USB 1.1 host and device |
| ETA6096 | High-efficiency lithium battery charging chip |
| Battery interface | MX1.25 connector, can be used to connect 3.7V lithium battery, support charging and discharging |
| QMI8658C | Six-axis inertial measurement unit (IMU) containing a 3-axis gyroscope and a 3-axis accelerometer |
| Pin header | 1.27mm pitch pin header, Lead out all GPIO and Debug interfaces |
| W25Q16JVUXIQ | 2MB NOR-Flash |
| RP2040 | Dual-Core Arm Cortex M0+ Processor, Running Up To 133 MHz |
| RESET button | RESET button |
| BOOT button | Press during reset to enter download mode |
Outline Dimensions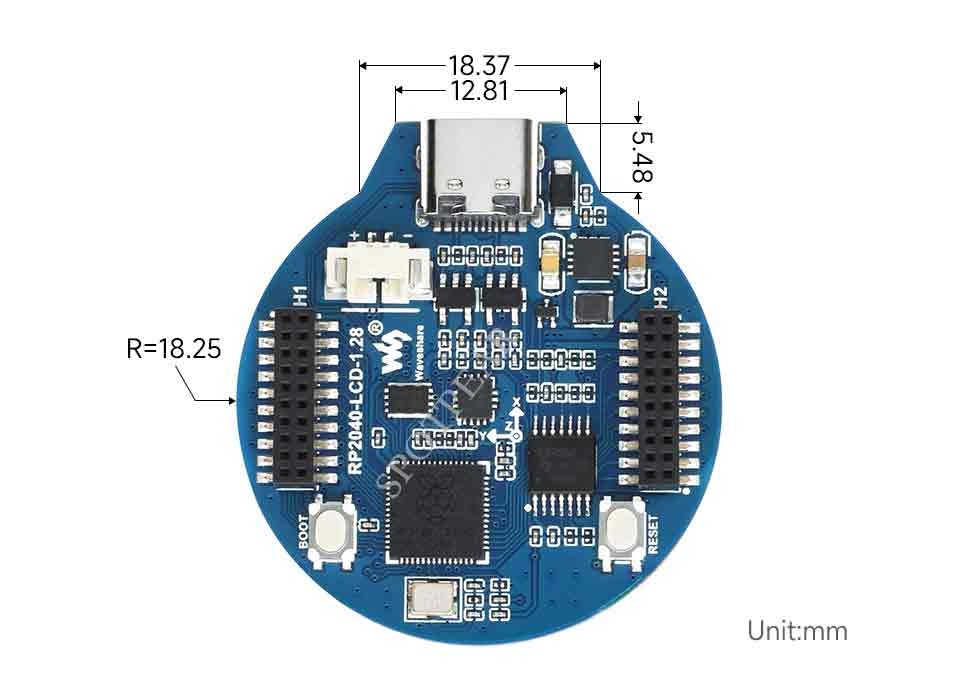 Video