This is an NFC-powered 7.5inch e-Paper Module, with 880x528 resolution. Users can transmit data from smartphone or NFC reader to e-Paper and refresh by NFC.


No backlight required, e-Paper keep displaying the last content for a long time without power
No power adapter required
You can modify the display content by smartphone
Compe with ABS case
App is provided
Power: NFC-powered
Resolution: 880x520
Dot pitch: 0.205 × 0.204
Refresh time: 5s
Display color: black, white
Viewing angle: >170°
NFC E-Paper Eval Kit
7.5inch NFC-Powered HD e-Paper Kit
Comes With NFC-Powered E-Paper, NFC Reader, Micro SD Card, And Essential Accessories
Ready-To-Use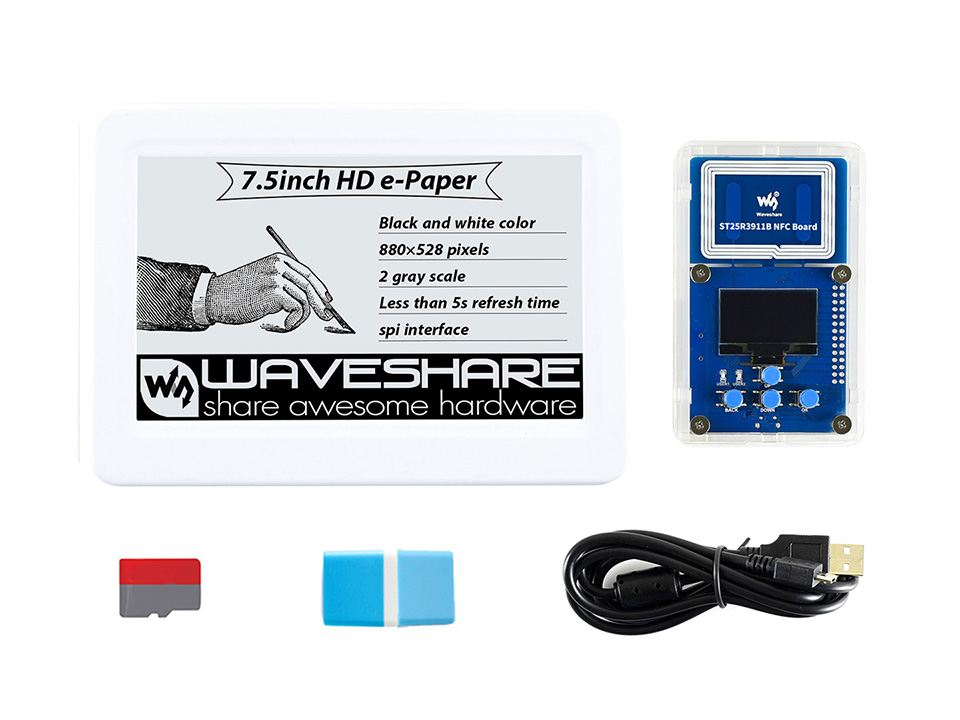 7.5inch NFC-Powered HD E-Paper
Adopts Novel Passive NFC Technology
No Battery Required, No More Battery Life Trouble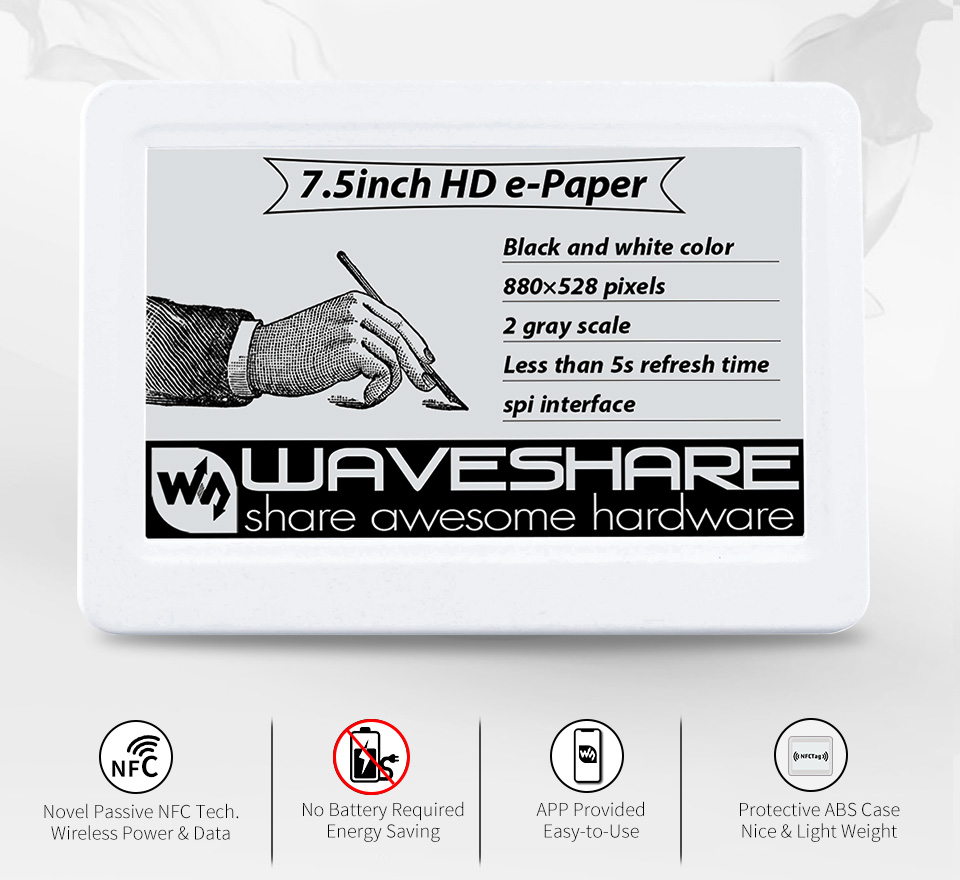 Wireless NFC-Powered Display Refreshing
Passive NFC Solution, No Battery Required, No Messy Wiring, Stable Operation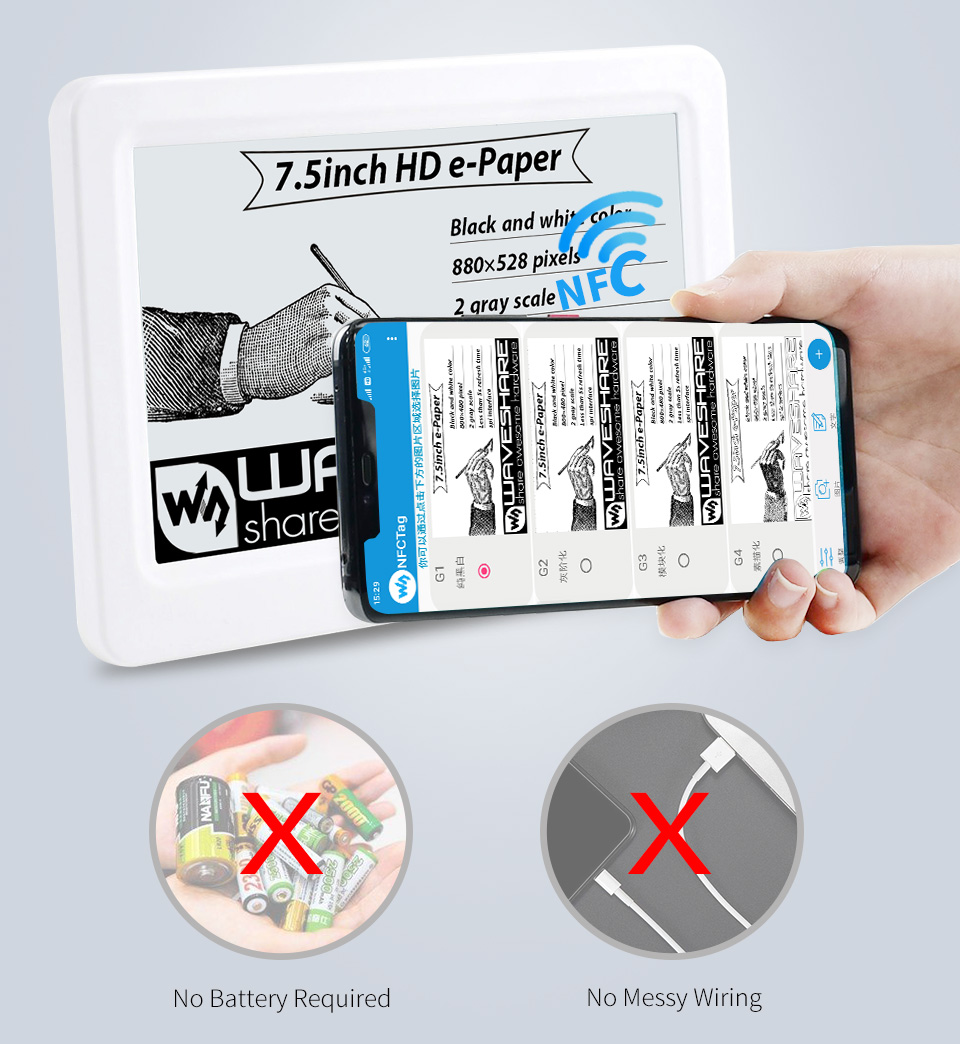 How It Works

To Refresh The Display Content,
Use A Smart Phone With NFC Function, Or An NFC Reader,
Close To The E-Paper For Both Wireless Powering And Data Transfer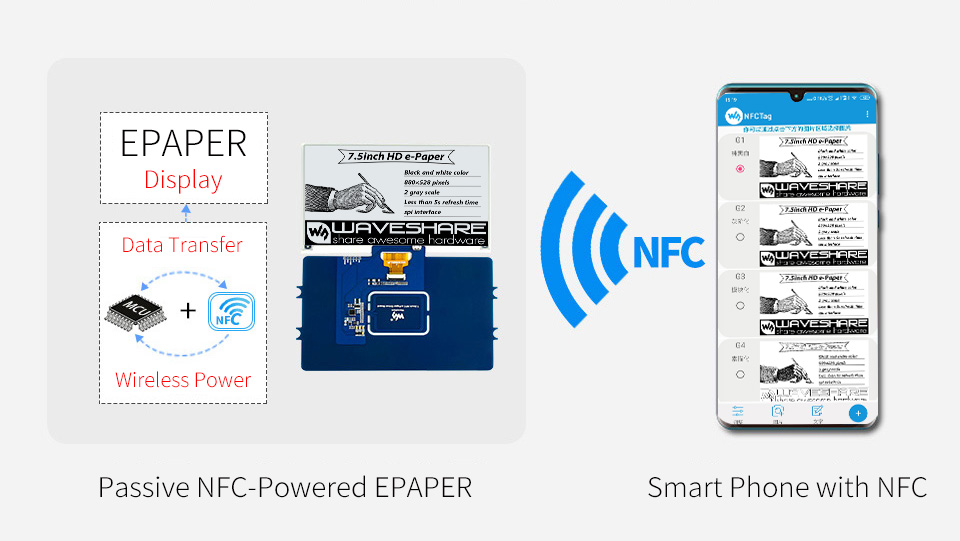 NFC Board Introduction
ST25R3911B NFC Chip, STM32F103R Controller,
OLED Display, User Buttons, And Common Used Interfaces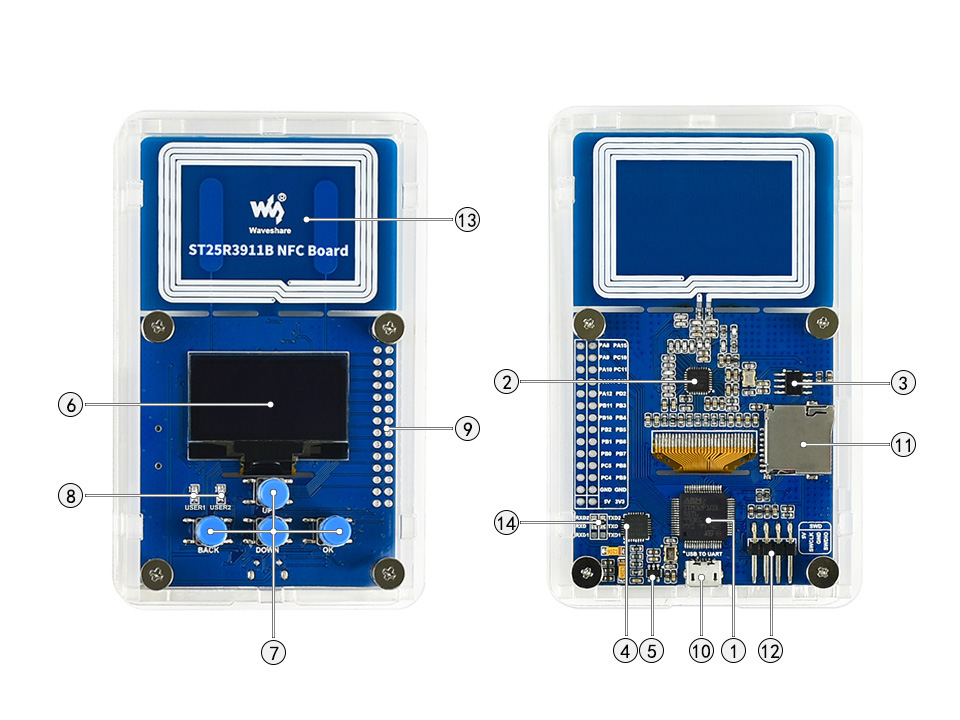 STM32F103RBT6


Core: ARM® 32-bit Cortex™-M3
Operating Frequency: 72MHz
Operating Voltage: 2.0V-3.6V
Package: LQFP64
Memories: 128kB Flash, 20kB SRAM
Communication Interfaces: 2 x SPI, 3 x USART, 2 x I2C, 1 x CAN, 1 x USB
AD & DA Converters: 2 x AD (12-bit, shares 16 channels)

ST25R3911B: NFC chip, aka AS3911B
23LC1024: SRAM, 1Mbit
CP2102: USB TO UART converter, for debugging
SPX3819: 3.3V voltage regulator
1.3" OLED: blue display, 128×64 pixels, SH1106 driver
4x user buttons:
2x user indicators
MCU unused pins
USB TO UART port
Micro SD slot
SWD programming interface
NFC induction coil
UART pin configuration
RXD: connected to RXD2 by default, changeable to RXD1 via 0Ω resistor
TXD: connected to TXD2 by default, changeable to TXD1 via 0Ω resistor
Suitable For Price Tags, Asset/Equipment Tags, Shelf Labels, Conference Name Tags...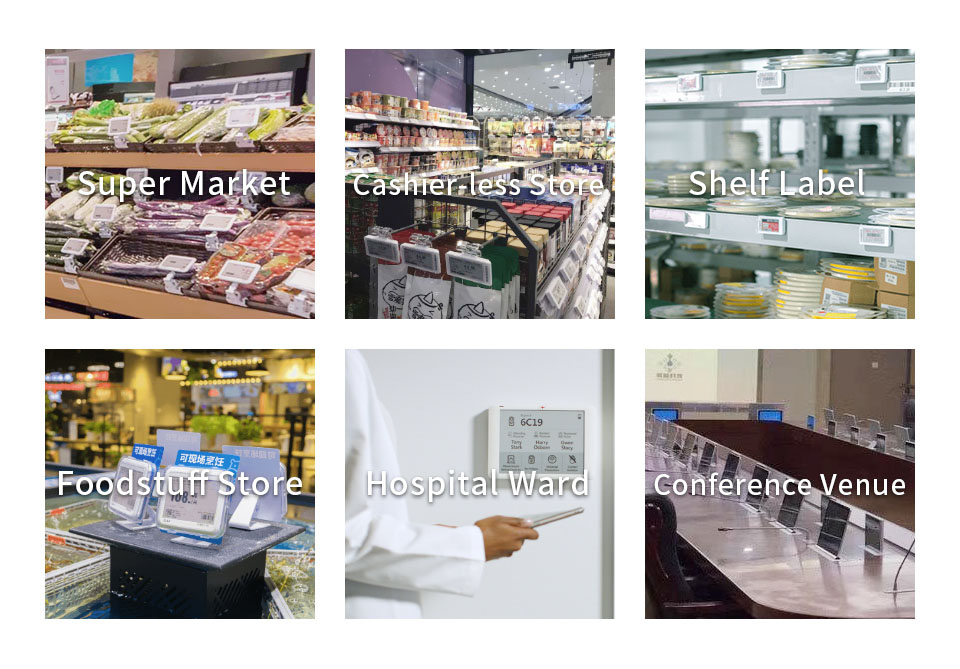 Specifications


POWER SUPPLY
Wireless
GREY SCALE
2
DISPLAY COLOR
Black / White
REFRESH TIME
5s (data transfer time is not included)
DOT PITCH
0.205mm × 0.204mm

DISPLAY SIZE
163.24mm × 97.94mm

RESOLUTION
880×528

OUTLINE DIMENSION
195.84mm × 137.68mm

VIEWING ANGLE
>170°

Outline Dimensions