Note: The micro:bit V2 is
random color
.
Overview
The BBC micro:bit, a pocket-sized (4cm×5cm) ARM development board designed
for helping children to learn programming skills,
is now updated to the new V2 version.
You can use your BBC micro:bit for
all sorts of cool creations including digital games,
musical instruments, robots,
scientific experiments, wearable devices, and more...
The micro:bit V2 adopts faster ARM Cortex-M4 nRF52833 processor,
integrates 2.4G Radio/BLE Bluetooth 5.0, and now includes built-in MEMS microphone,
speaker, and touch sensitive logo pin,
enabling people to get creative more easily through sound and touch sensing.
It also offers 5x5 red LED matrix with separate control
for each LED, and two programmable user buttons that can be used to
control games or pause/skip songs on a playlist.
The micro:bit V2 has a motion sensor which combines 3-axis sensing accelerometer,
together with magnetometer that can be used as compass
or magnetic field strength sensor.
Comparison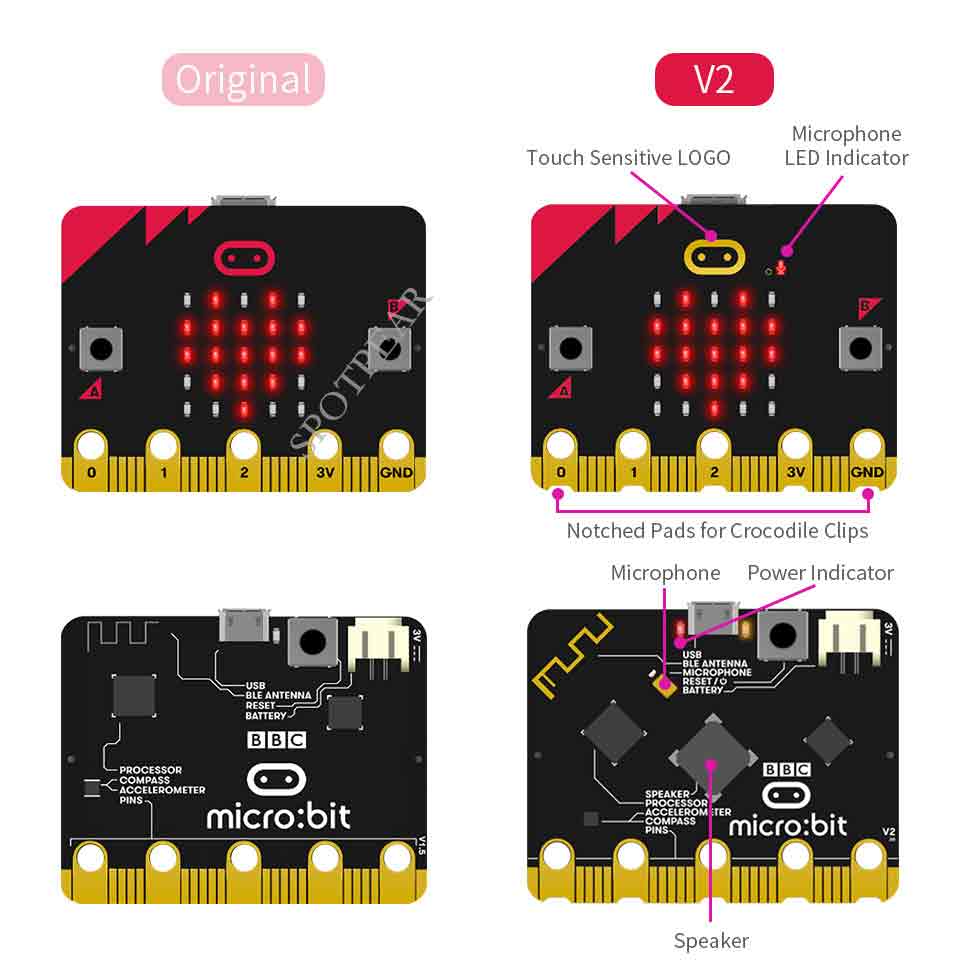 ORIGINAL
V2
PROCESSOR
Nordic Semiconductor
nRF51822
Nordic Semiconductor
nRF52833
MEMORY
256KB Flash, 16KB RAM
512KB Flash, 128KB RAM
INTERFACE CHIP
NXP KL26Z, 16KB RAM
NXP KL27Z, 32KB RAM
MICROPHONE
N/A
MEMS microphone and LED indicator
SPEAKER
N/A
On board speaker
TOUCH
N/A
Touch sensitive logo pin
EDGE CONNECTOR
25 pins, 3 dedicated GPIO, PWM, I2C, SPI and ext. power.
3 ring pins for connecting crocodile clips/banana plugs.
25 pins, 4 dedicated GPIO, PWM, I2C, SPI and ext. power.
3 ring pins for connecting crocodile clips/banana plugs. Notched for easier connection
I2C
Shared (mux) I2C bus
Dedicated I2C bus
WIRELESS
2.4GHz Radio/BLE Bluetooth 4.0
2.4GHz Radio/BLE Bluetooth 5.0
POWER
5V via Micro USB port, 3V via edge connector or battery pack
5V via Micro USB port, 3V via edge connector or battery pack
LED Indicator, Power off (push and hold power button)
CURRENT AVAILABLE
90mA available for accessories
200mA available for accessories
MOTION SENSOR
ST LSM 303
SOFTWARE
C++,Makecode,Python,Scratch
SIZE
5cm(w) x 4cm(h)
New Speaker And Microphone
Sense And Response To Sound By The Microphone, Play Tones By The Speaker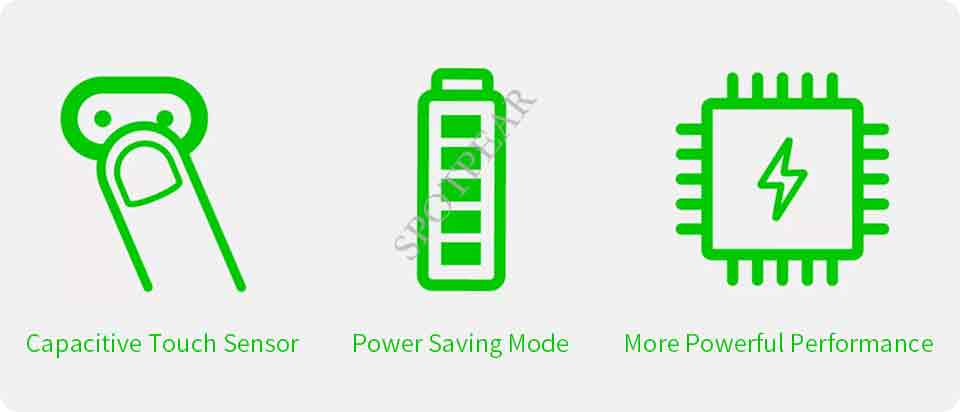 How You Clip The Crocodile Clips Now

Video