【Product Features】

[] The NanoPC-T6 (as "T6") is an open-sourced mini IoT gateway device with two 2.5G and one Gbps Ethernet ports, designed and developed by FriendlyElec.It is integrated with a Rockchip RK3588 CPU, 4GB/8GB/16GB LPDDR4x RAM and 32GB/64GB/256GB eMMC flash. It supports booting with TF cards and works with operating systems such as FriendlyWrt etc.
[] The NanoPC-T6 has rich hardware resources with a compact PCB size of 110*80mm. FriendlyElec has released a carefully-designed custom CNC housing for it. It has two HDMI-Out port and one HDMI-In port. It works with Android, Debian Desktop and Ubuntu etc and works with headless systems as well. It supports decoding 8K60 H.265/VP9 formatted videos.

[] The NanoPC-T6 has one USB3.0 port and one USB C port.

[] All in all, the NanoPC-T6 is a board featured with multiple Ethernet ports, light NAS and video playing. It is a cannot-miss platform with infinite possibilities for geeks, fans and developers.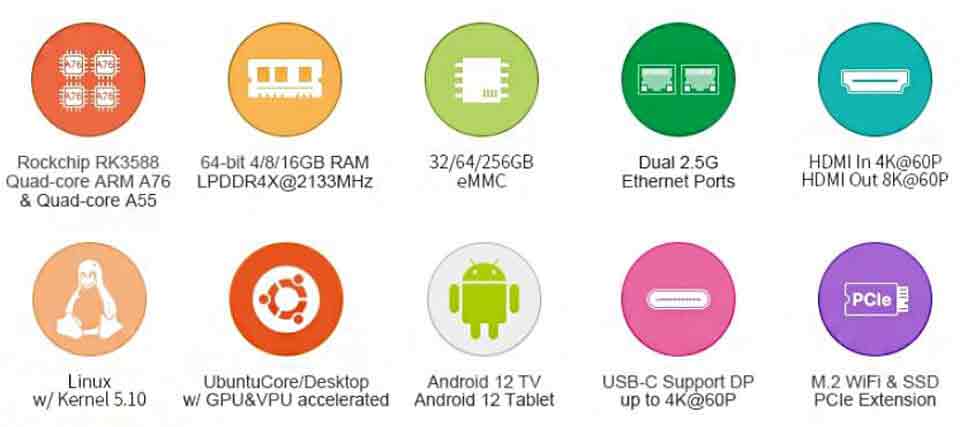 【NanoPC-T6 Specifications】

[] SoC: Rockchip RK3588
CPU: Quad-core ARM Cortex-A76(up to 2.4GHz) and quad-core Cortex-A55 CPU (up to 1.8GHz)
GPU: Mali-G610 MP4, compatible with OpenGLES 1.1, 2.0, and 3.2, OpenCL up to 2.2 and Vulkan1.2
VPU: 8K@60fps H.265 and VP9 decoder, 8K@30fps H.264 decoder, 4K@60fps AV1 decoder, 8K@30fps H.264 and H.265 encoder
NPU: 6TOPs, supports INT4/INT8/INT16/FP16
[] RAM: 64-bit 4GB/8GB/16GB LPDDR4X at 2133MHz
[] Flash: 32GB/64GB/256GB eMMC, at HS400 mode
[] MicroSD: support up to SDR104 mode
[] Ethernet: 2x PCIe 2.5G Ethernet
[] 4G LTE: one mimiPCIe connector and one microSIM slot
[] USB-A: 1x USB 3.0 Type-A
[] USB-C: 1x Full function USB Type‑C™ port, support DP display up to 4Kp60, USB 3.0
[] Video input:
1x Standard HDMI input port, up to 4Kp60
2x 4-lane MIPI-CSI, compatible with MIPI V1.2
[] Video output:
2x Standard HDMI output ports
compatible with HDMI2.1, HDMI2.0, and HDMI1.4 operation
one support displays up to 7680x4320@60Hz, another one support up to 4Kp60
Support RGB/YUV(up to 10bit) format
2x 4-lane MIPI-DSI, compatible with MIPI DPHY 2.0 or CPHY 1.1
[] Audio:
3.5mm jack for stereo headphone output
2.0mm PH-2A connector for analog microphone input
[] GPIO:
40-pin 2.54mm header connector
up to 2x SPIs, 6x UARTs, 1x I2Cs, 8x PWMs, 2x I2Ss, 28x GPIOs
[] M.2 Connectors
one M.2 M-Key connector with PCIe 3.0 x4 for NVMe SSDs up to 2,500 MB/s
one M.2 E-key connector with PCIe 2.1 x1 and USB2.0 Host
[] Others:
2 Pin 1.27/1.25mm RTC battery input connector for low power RTC IC HYM8563TS
one 38Khz IR receiver
MASK button for eMMC update, reset button, and Power button
one 5V Fan connector
Debug UART, 3-Pin 2.54mm header, 3.3V level, 1500000bps
2 x GPIO Controlled LED (SYS, LED1)
[] Power supply: 5.5*2.1mm DC Jack, 12VDC input.
[] PCB: 8 Layer, 110x80x1.6mm
[] Ambient Operating Temperature: 0℃ to 70℃
【Support Multi-OS】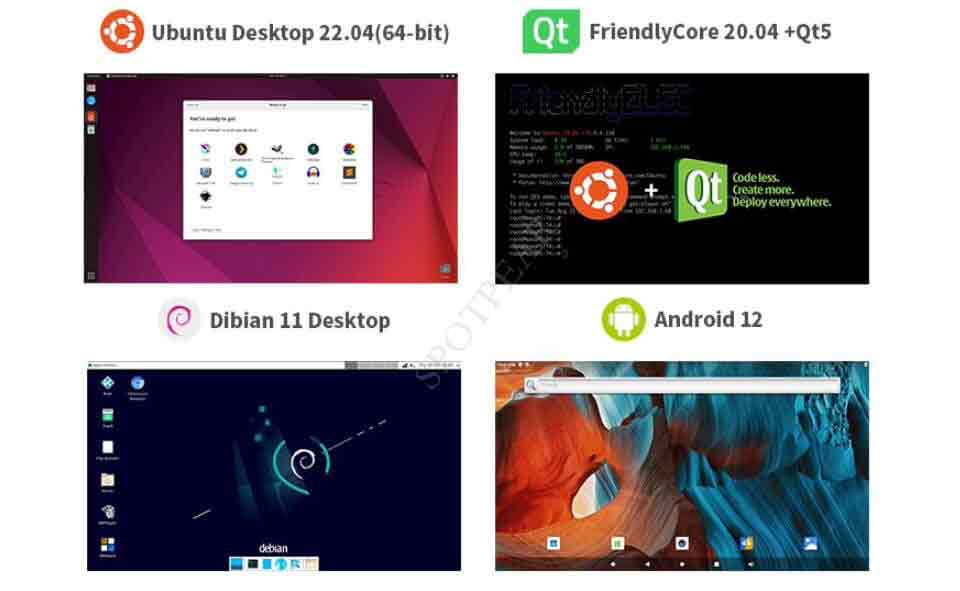 【Rockchip RK3588 SoC】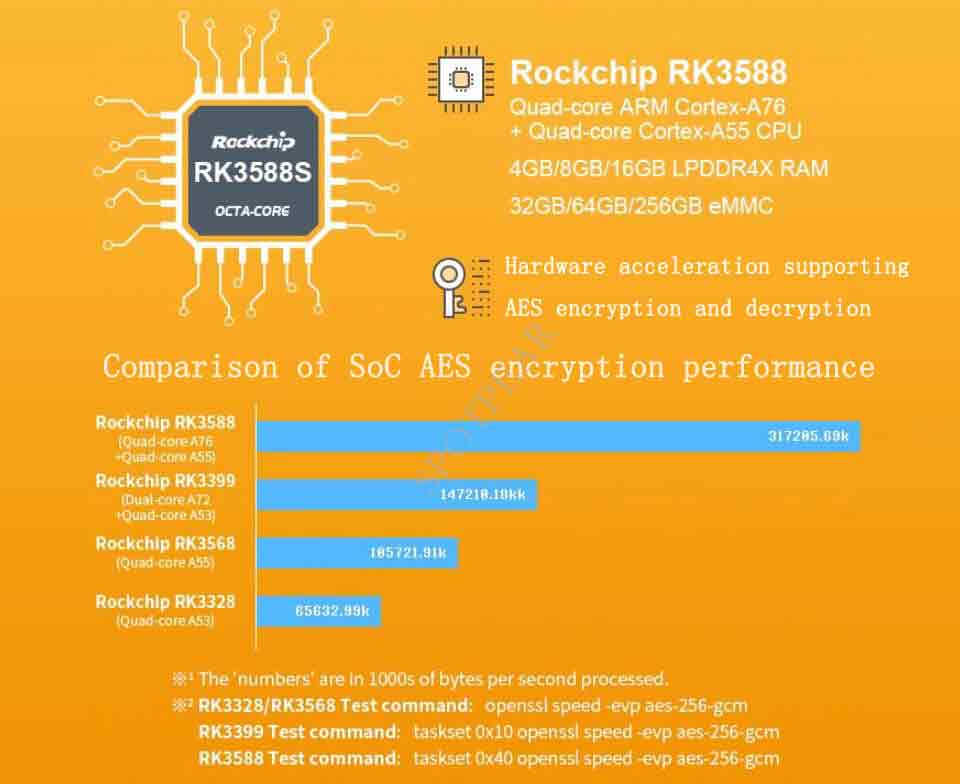 【Supports decoding 8K videos】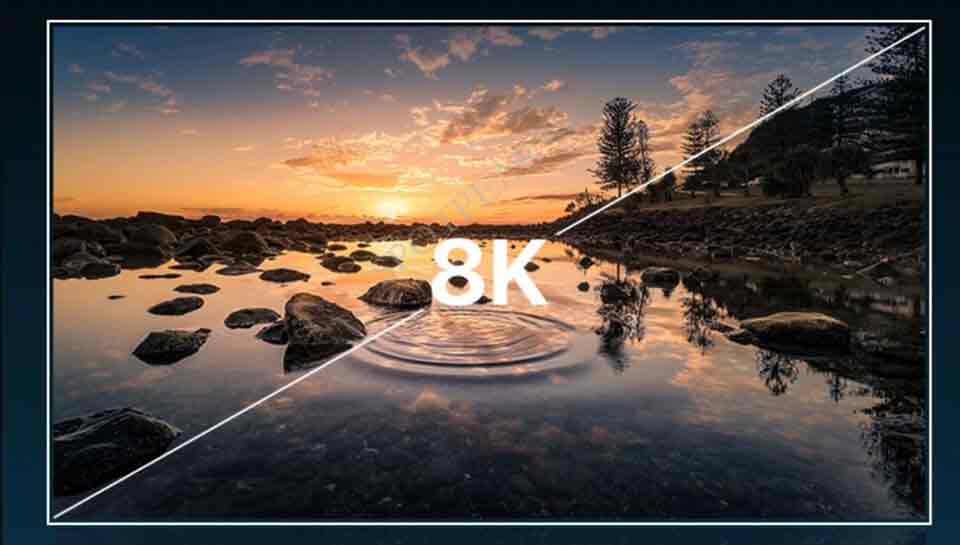 【Supports Bluetooth wireless handle】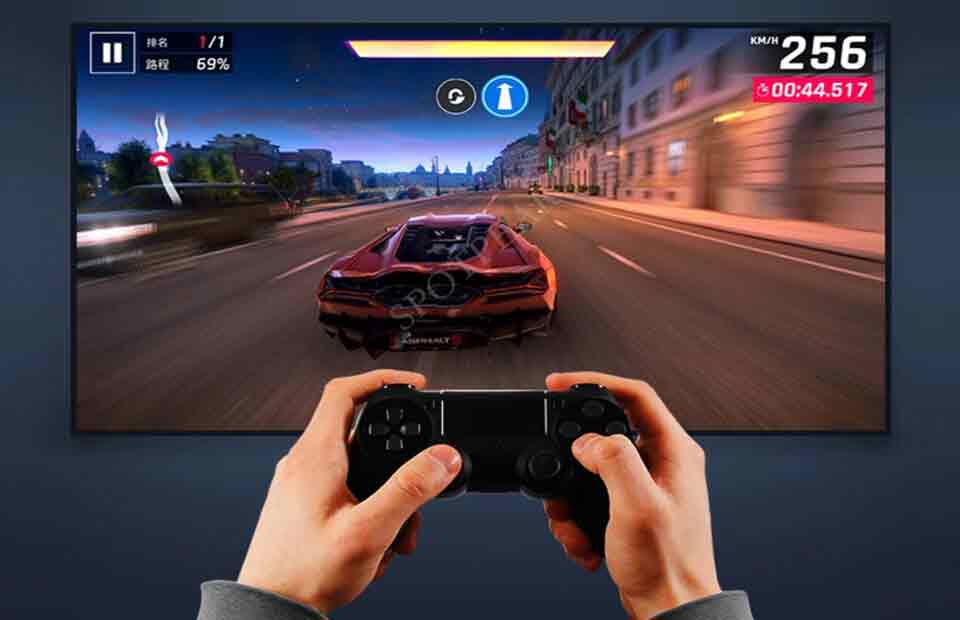 【2.5G High-speed Ethernet】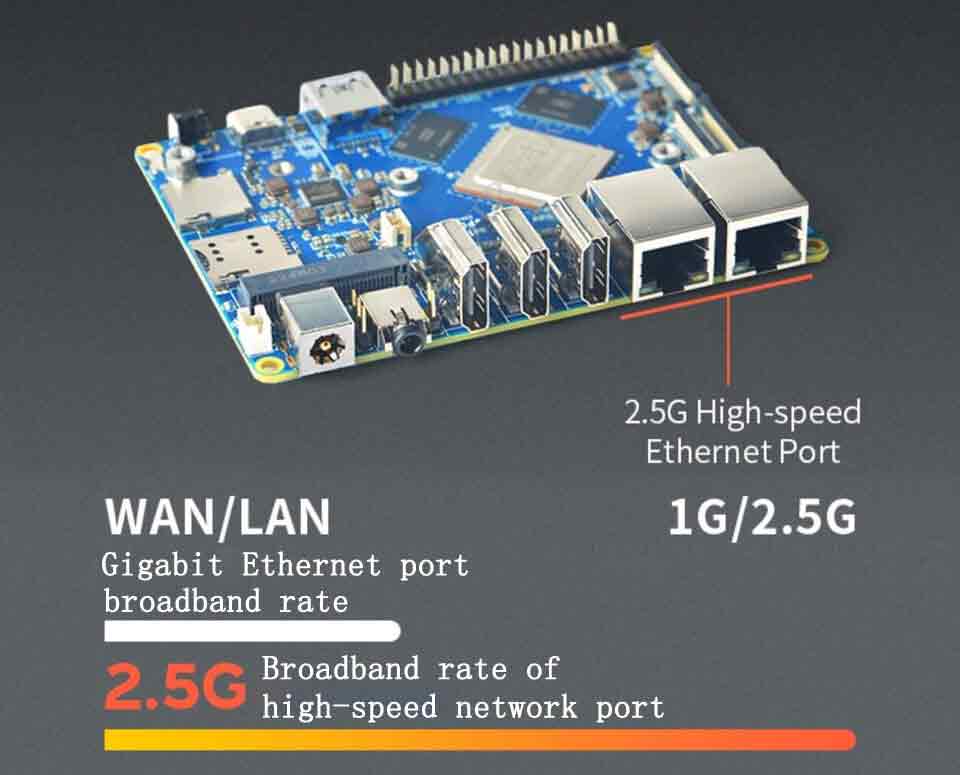 【Rich Interfaces】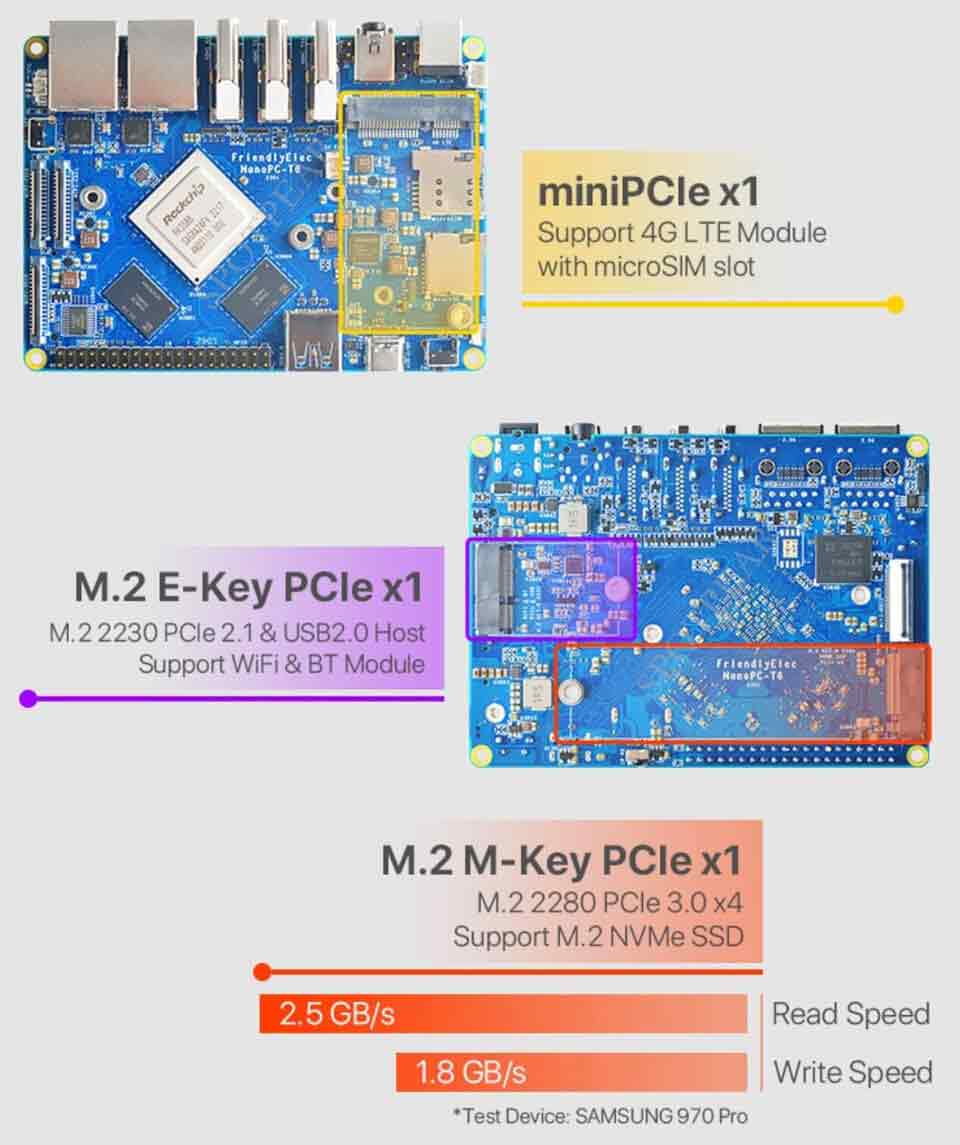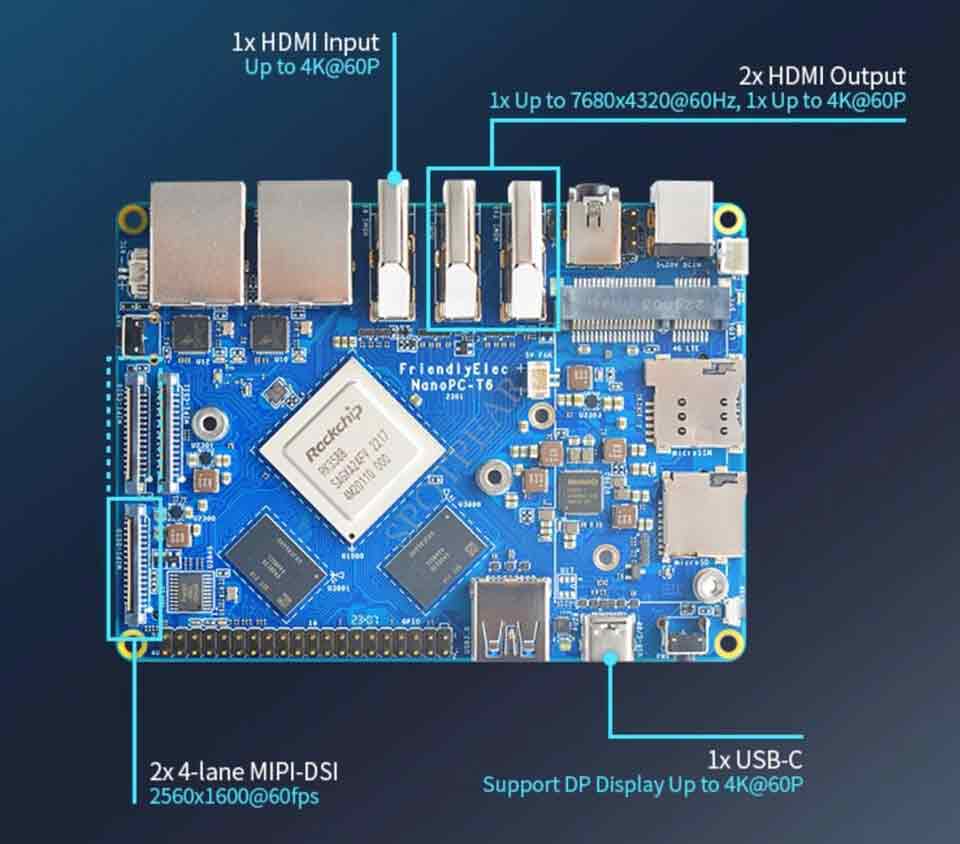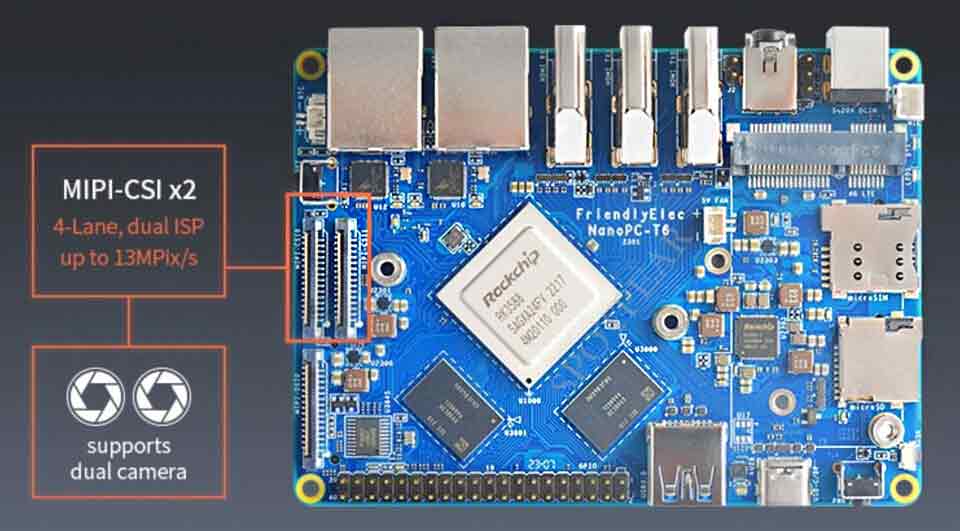 【NanoPC-T6 USB WiFi Support List】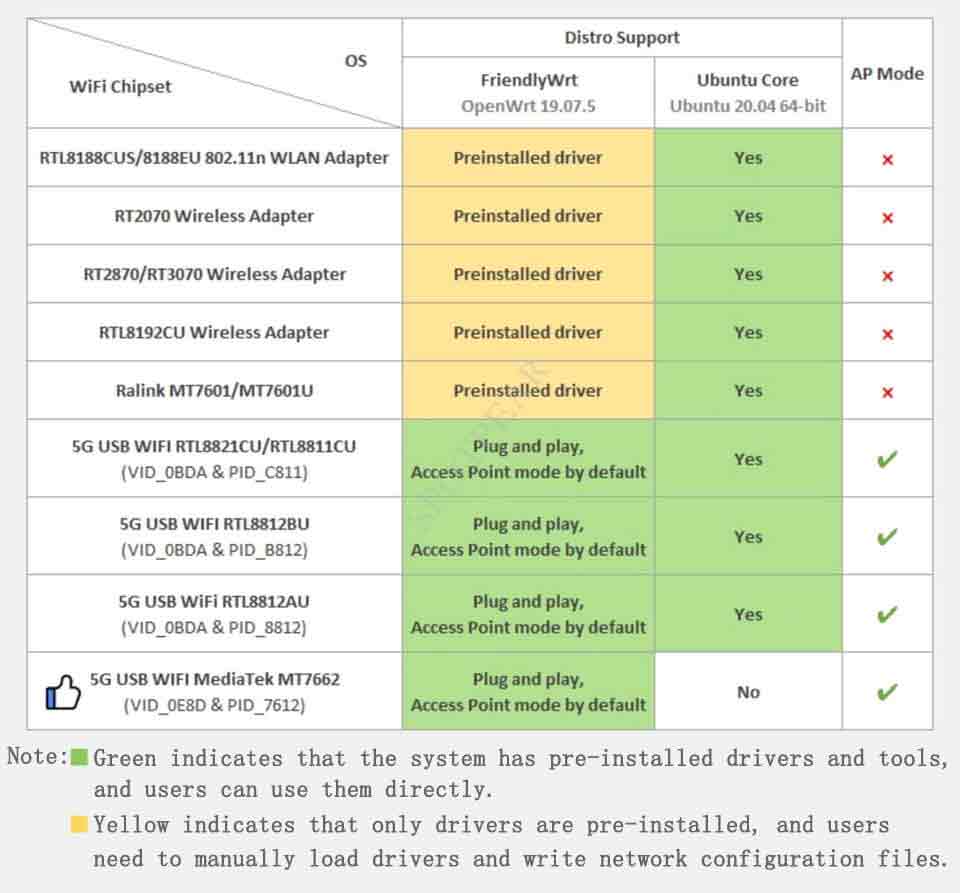 【Introduction resources】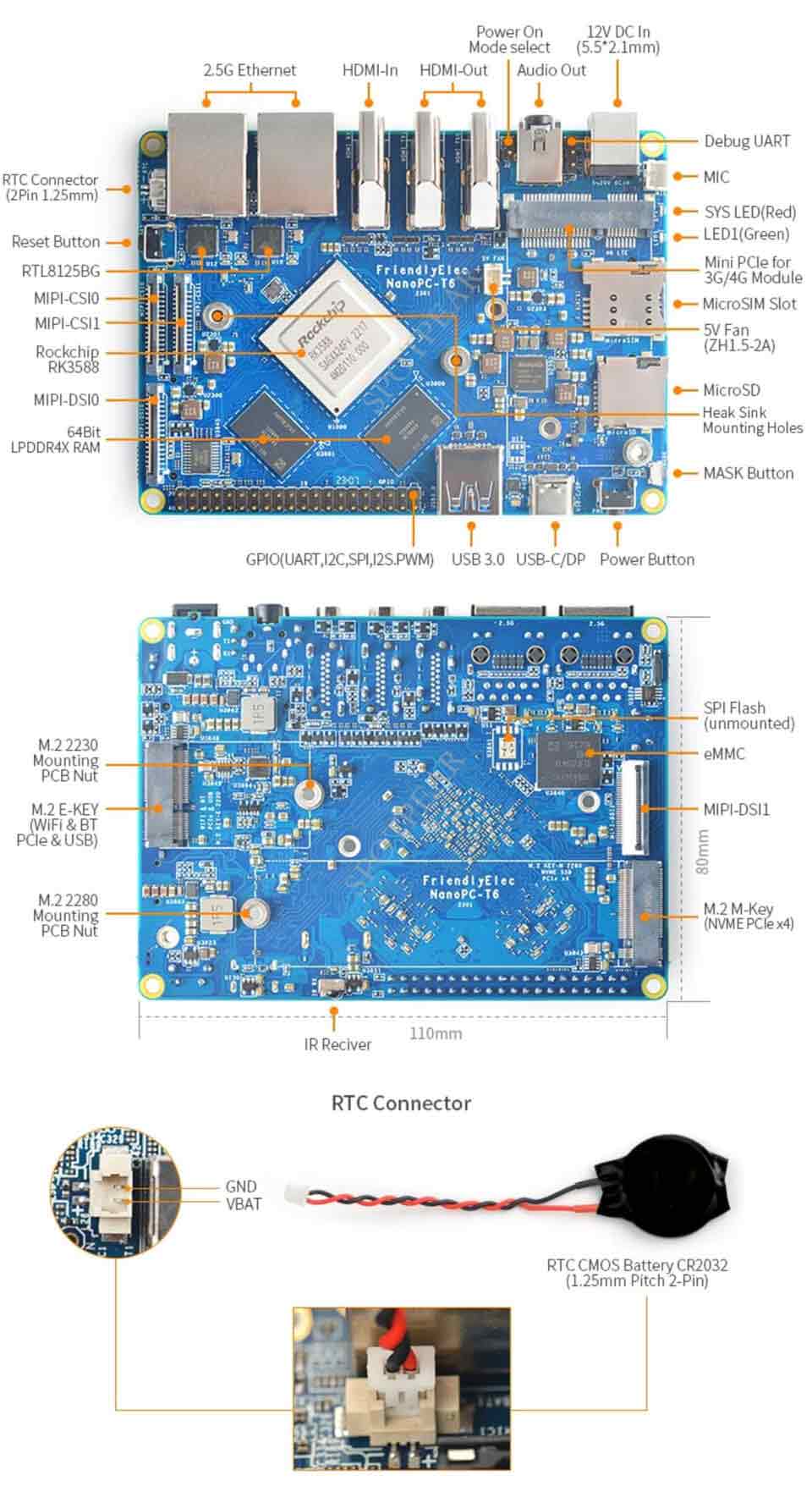 【Video】