Note:This is
Not
a
Raspberry Pi Pico
, It is a
Size compatible
with Raspberry Pi Pico But
CPU
is
different
from Raspberry Pi Pico
which mean you can

not run

Raspberry Pi Pico same Program
However, You can use ESP-IDF,Arduino,MicroPython to run this board
Overview
The ESP32-S3-Pico is a low-cost, high-performance microcontroller development board with a compact size and rich peripheral interfaces.
Adopts ESP32-S3R2 as the main chip, which is an MCU chip with integrated 2.4 GHz Wi-Fi and Bluetooth 5 (LE).
The interface chips are CH343 and CH334, so you can experience the fun of USB and UART development with a single USB-C port, and no more trouble switching interfaces.
The DC-DC chip adopts MP28164, a high-efficiency buck-boost chip, which adopts PWM fixed-frequency current control mode to optimize circuit stability and response speed.
You can choose ESP-IDF, Arduino, MicroPython, or other development environments in software so that you can easily and quickly get started and apply it to the product.
Features
Adopts ESP32-S3R2 chip with Xtensa 32-bit LX7 dual-core processor, capable of running at 240 MHz
Integrated 512KB SRAM, 384KB ROM, 2MB PSRAM, 16MB Flash memory
Integrated 2.4GHz Wi-Fi and Bluetooth LE dual-mode wireless communication, with superior RF performance.
Type-C connector, easier to use
Onboard CH343 and CH334 chips can meet the needs of USB and UART development via a Type-C interface
Onboard DC-DC chip MP28164, high efficiency DC-DC buck-boost chip with load current up to 2A
27 × multi-function GPIO pins
Rich peripheral interfaces, including full-speed USB OTG, SPI, I2C, UART, ADC, PWM and DVP (8-bit ~ 16-bit camera interface), LCD interfaces (8-bit ~ 16-bit parallel RGB, I8080, MOTO6800), etc. to achieve various functions flexibly
Castellated module allows soldering directly to carrier boards
Supports multiple low-power operating states, adjustable balance between communication distance, data rate and power consumption to meet the power requirements of various application scenarios
Supports Raspberry Pi Pico expansion board ecology, suitable for artificial intelligence IoT application development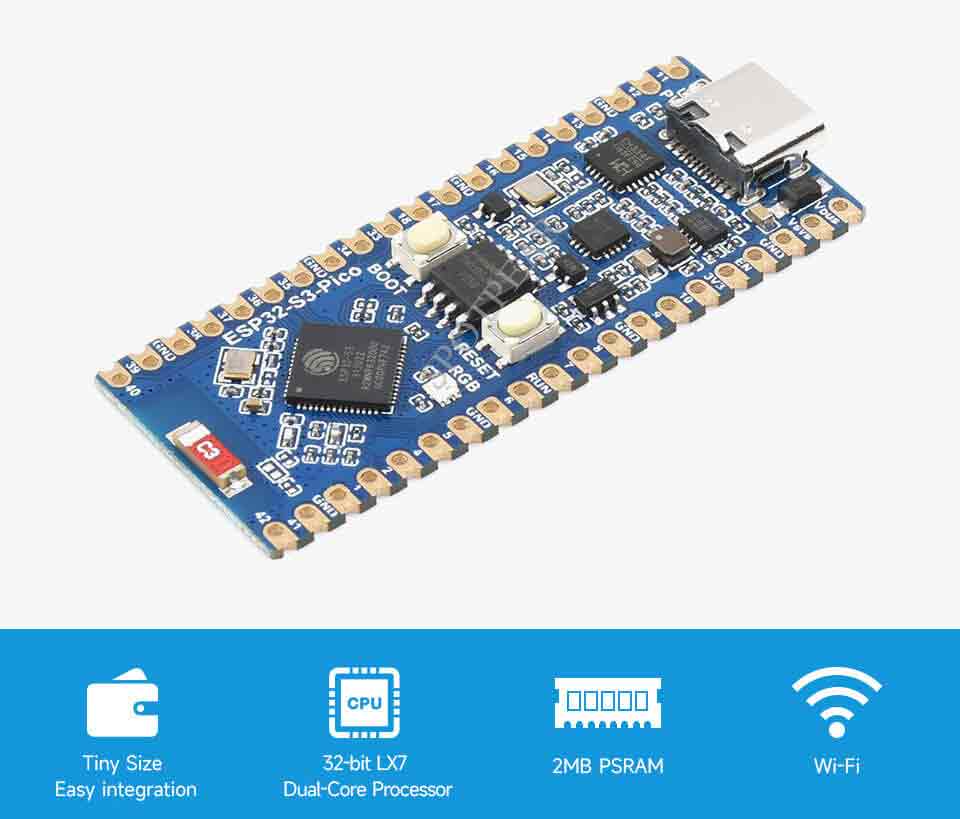 Supports ESP-IDF, Arduino, MicroPython
Comprehensive SDK, Dev Resources, Tutorials To Help You Easily Get Started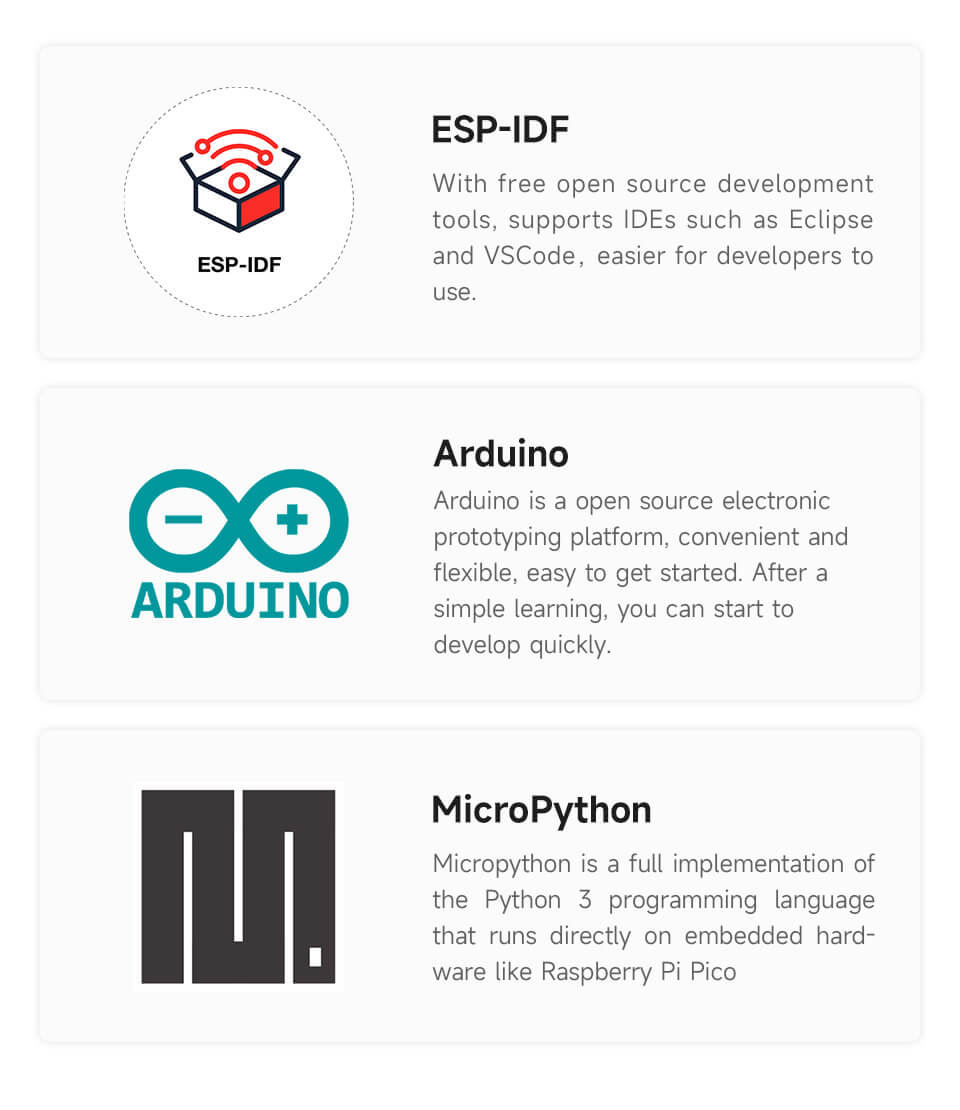 ESP32-S3 Designed For AIoT Applications
Powered By Xtensa 32-Bit LX7 Dual-Core Processor With Frequency Up To 240 MHz
Powerful AI Computing Capability & Reliable Security Features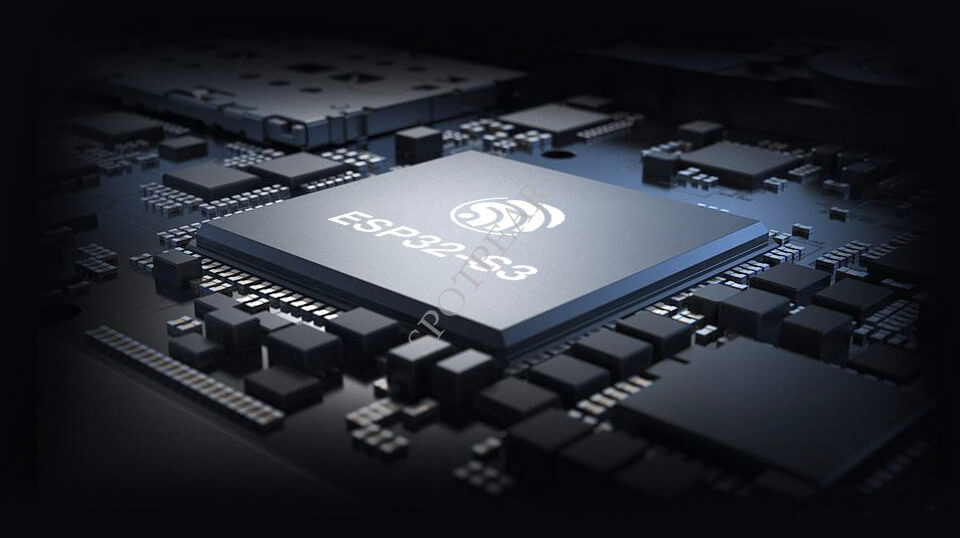 ESP32-S3 Integrates 2.4 GHz Wi-Fi (802.11 B/G/N) With 40 MHz Of Bandwidth Support
Its Bluetooth Low Energy Subsystem Supports Bluetooth 5 (LE) And Bluetooth Mesh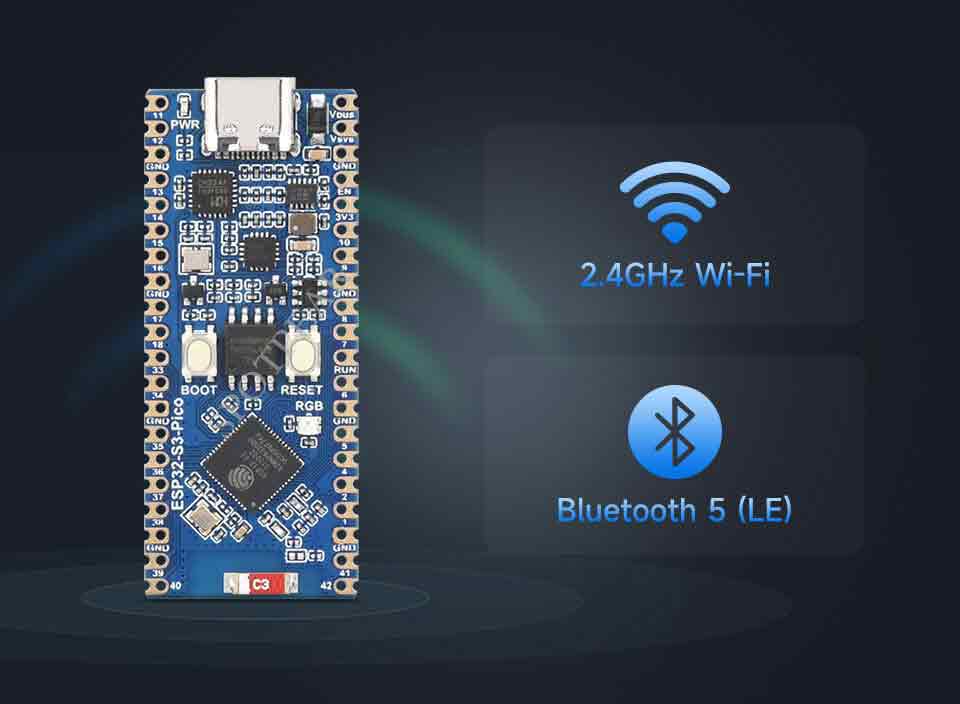 27 × Multi-Function GPIO Pins
Configurable Pin Function, Allows Flexible Development And Integration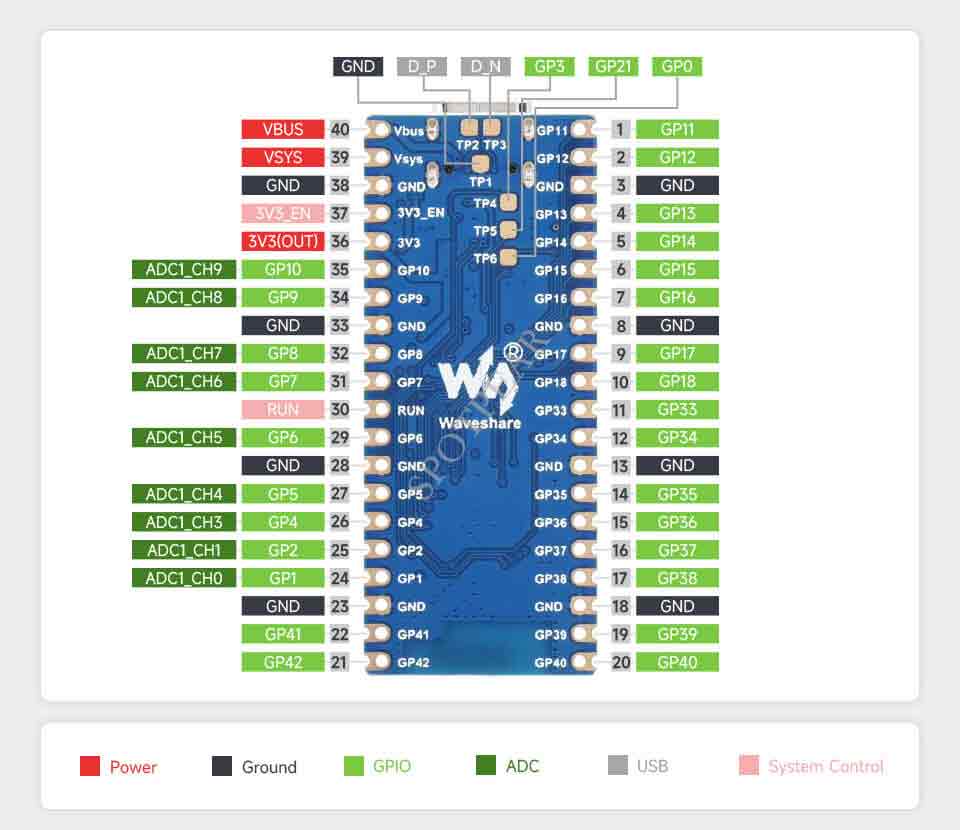 Note: SPI, I2C, UART and other interfaces can be mapped to most GPIOs through the GPIO Matrix and IO MUX, see the ESP32-S3 datasheet for details.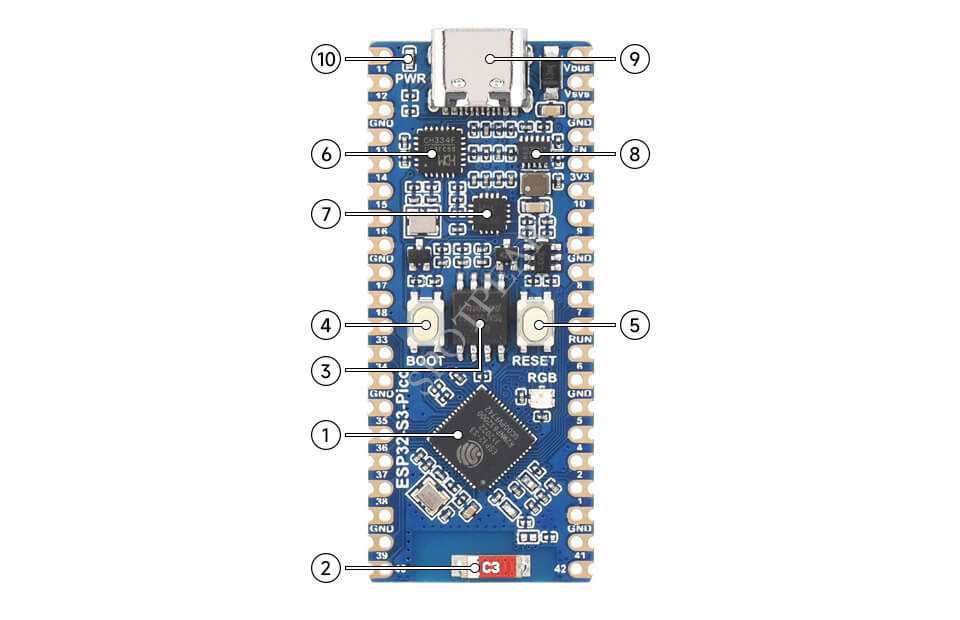 Features
1. ESP32-S3R2
Xtensa 32-bit LX7 dual-core processor,
with onboard 2MB PSRAM
2. 2.4G monopole ceramic antenna
3. W25Q128JVSIQ
16MB Flash memory
4. BOOT button
Press it when resetting to enter download mode
5. RESET button
6. CH334F
USB HUB controller
7. CH343P
USB to UART chip
8. MP28164
High efficiency DC-DC buck-boost chip
9. USB Type-C port
10. Power indicator
Supports More Pico Extension Modules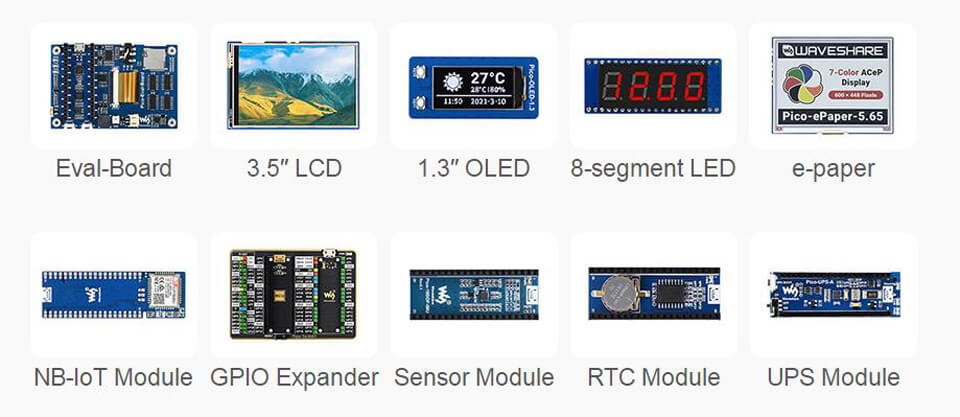 Video