【Features】

ESP32-S3-Touch-LCD-4.3 is a microcontroller development board that supports 2.4GHz WiFi and BLE 5. It integrates a large-capacity Flash and PSRAM, and comes with a 4.3-inch capacitive touchscreen, capable of smoothly running GUI interface programs like LVGL; combined with various peripheral interfaces, it enables fast development of HMI applications for ESP32-S3.
[] Equipped with a high-performance Xtensa 32-bit LX7 dual-core processor, with a maximum frequency of 240MHz.
[] Supports 2.4 GHz Wi-Fi (802.11 b/g/n) and Bluetooth 5 (LE), with built-in antenna.
[] Built-in 512KB SRAM and 384KB ROM, stacked with 8MB Flash and 8MB PSRAM.
[] Comes with a 4.3-inch capacitive touchscreen, 800 × 480 resolution, 65K colors.
[] Supports I2C interface for capacitive touchscreen control, 5-point touch, and interrupt support.
[] Onboard interfaces include CAN, RS485, I2C, Micro SD card slot, and integrated full-speed USB serial port.
[] Supports flexible clock settings, separate module power settings, and precise control to achieve low-power modes in various scenarios.
【Application Examples】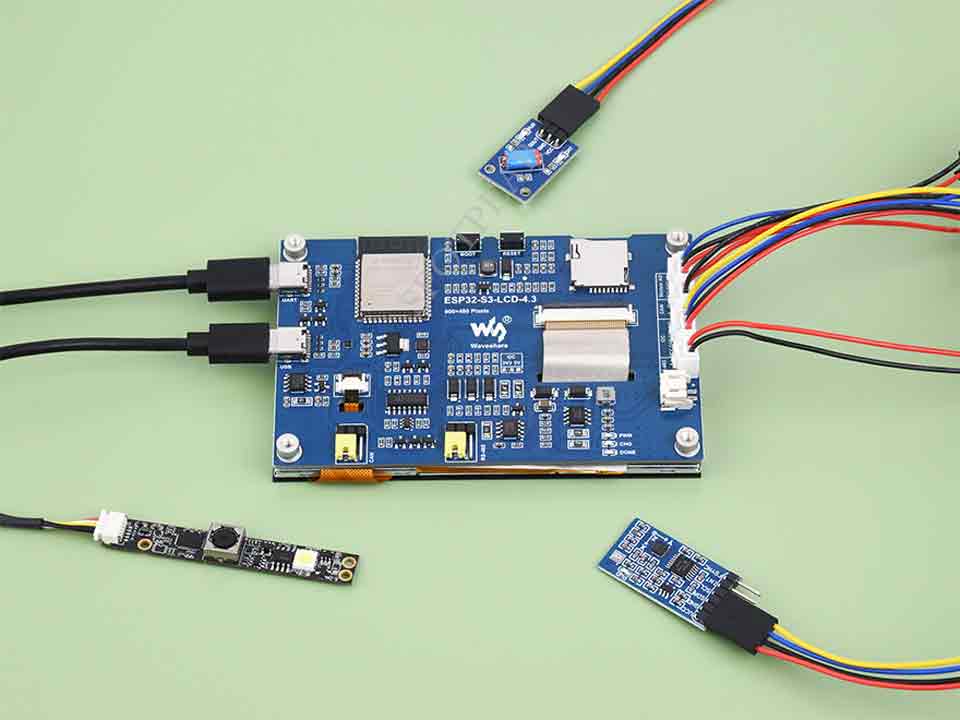 Images are for illustration purposes only; for detailed configurations, please refer to the configuration list.
【Resource Overview】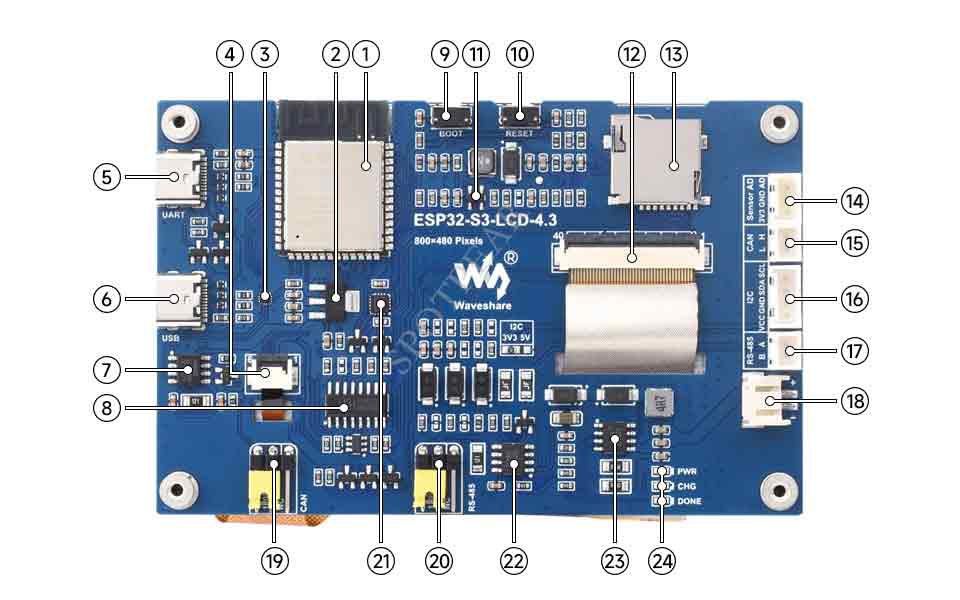 1. ESP32-S3N8R8
WiFi Bluetooth SoC module, 240MHz operating frequency, 8MB PSRAM and Flash package.
2. SGM2212-3.3
800mA low-noise LDO.
3. FSUSB42UMX
Used for USB pin multiplexing.
4. Touchscreen wiring terminal.
5. USB TO UART Type-C interface.
6. USB Type-C interface.
7. TJA1051T/3/1J
CAN interface chip.
8. CH422G
IO expansion chip.
9. BOOT button
Press and hold during power-up for program burning.
10. RESET button
Press to reset the controller.
11. MP3302DJ-LF-Z
Screen backlight boost chip.
12. 4.3-inch screen wiring terminal.
13. Micro SD card slot.
14. Sensor wiring terminal.
15. CAN wiring terminal.
16. I2C wiring terminal.
17. RS485 wiring terminal.
18. 3.7V single-cell lithium battery PH2.0 interface.
19. CAN terminal resistor selection interface.
20. RS485 terminal resistor selection interface.
21. CH343P
USB to UART chip.
22. SP3485
RS485 transceiver chip.
23. CS8501
Lithium battery charging management chip.
24. Status indicator lights
PWR power indicator light;
CHG lithium battery charging indicator light;
DONE lithium battery charging completion indicator light.
【Product Presentation】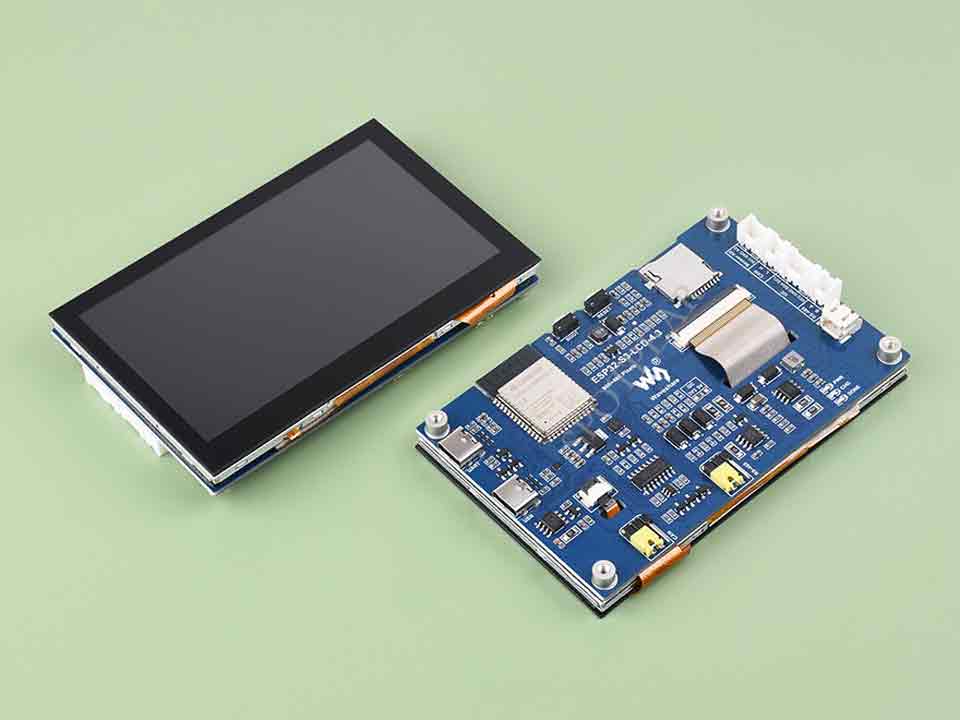 【Product Dimensions】