【Note】

[] Do not include Raspberry Pi and other controller boards
【Product Overview】

[] The 9.3-inch 1600x600 LCD is a small, high-resolution universal capacitive touch screen compatible with most standard HDMI devices. Featuring a small, thin body, toughened glass panel, excellent display performance, and smooth multi-touch effect. The baseboard comes with its own fixing nuts for integrated projects.
【Product Features】

[] 9.3-inch IPS screen with 1600x600 hardware resolution.
[] 10-point capacitive touch with up to 6H hardness toughened glass panel.
[] Optical bonding technique for better display.
[] Supports Raspberry Pi OS / Ubuntu / Kali and Retropie when used with Raspberry Pi.
[] Supports Windows 11 / 10 / 8.1 / 8 / 7 when used as a computer monitor.
[] Multi-language OSD menu support (can be used for power control, adjusting brightness/contrast, etc.)
[] Supports HDMI audio output, onboard 3.5mm headphone jack, and 4PIN header.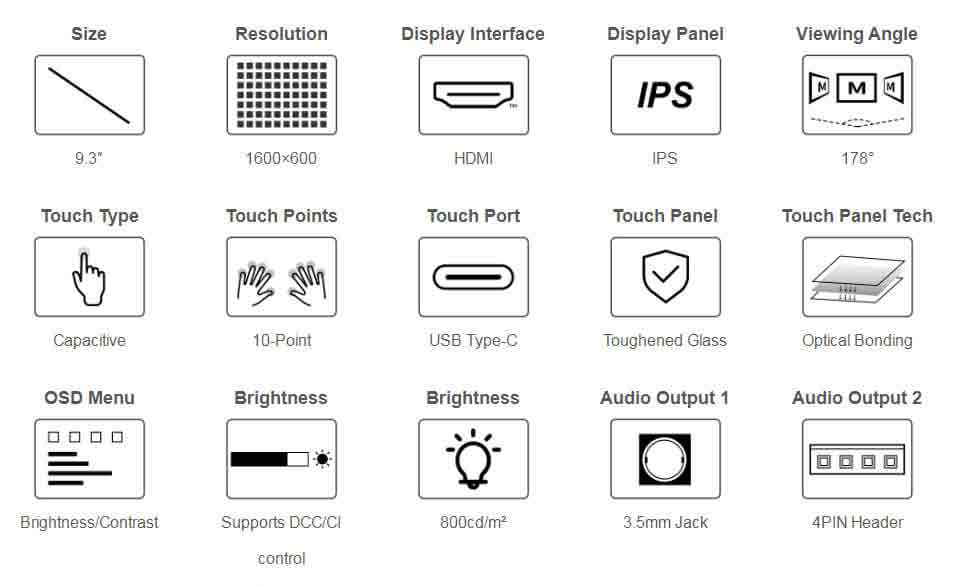 【Device & System Support】

[] Raspberry Pi
[] Supports Raspberry Pi OS, 10-point touch, driver free
[] Supports Ubuntu / Kali/ WIN10 IoT, single point touch, driver free
[] Supports Retropie, driver free
[] Supports all versions of Raspberry Pi
[] Jetson Nano
[] Supports Ubuntu, single point touch, driver free
[] PC
[] Supports Windows 11 / 10 / 8.1 / 8 / 7, 10-point touch, driver free

【Connection Examples】

[] For reference only, the above controller boards or hosts are NOT included

[] Working With Raspberry Pi 4B

[] Working With Raspberry Pi 3B+

[] Working With Raspberry Pi Zero 2 W
[] You need to prepare additional mini HDMI adapter and USB cable

[] Working With Jetson Nano

[] Working With PC

【IPS Display Panel】

[] Excellent Display Performance With 178° Wide Viewing Angle

【Capacitive 10-Point Touch】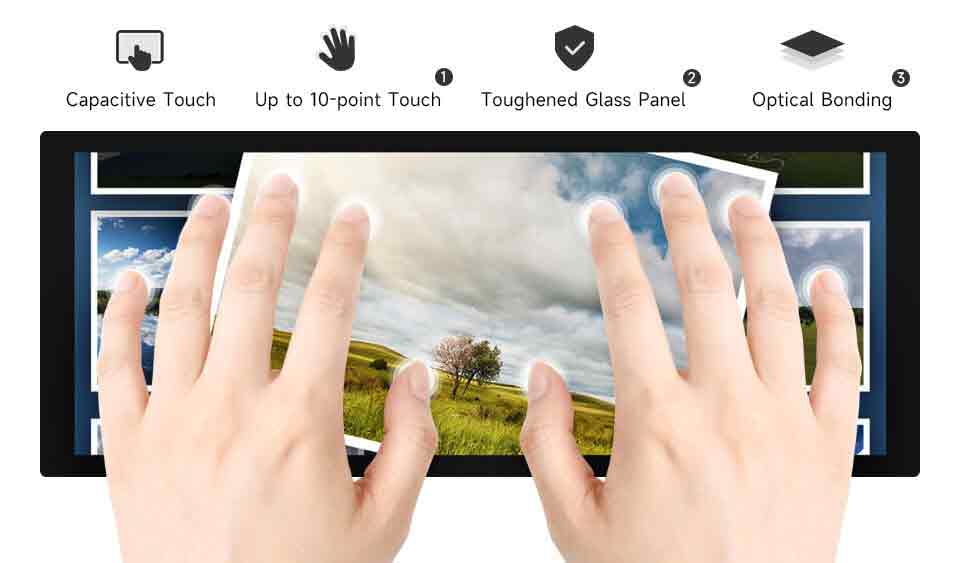 [] up to 10-point touch, depending on the operating system
[] up to 6H hardness toughened glass panel
[] Optical Bonding, display well and dustproof
【Supports DDC/CI Brightness Adjustment】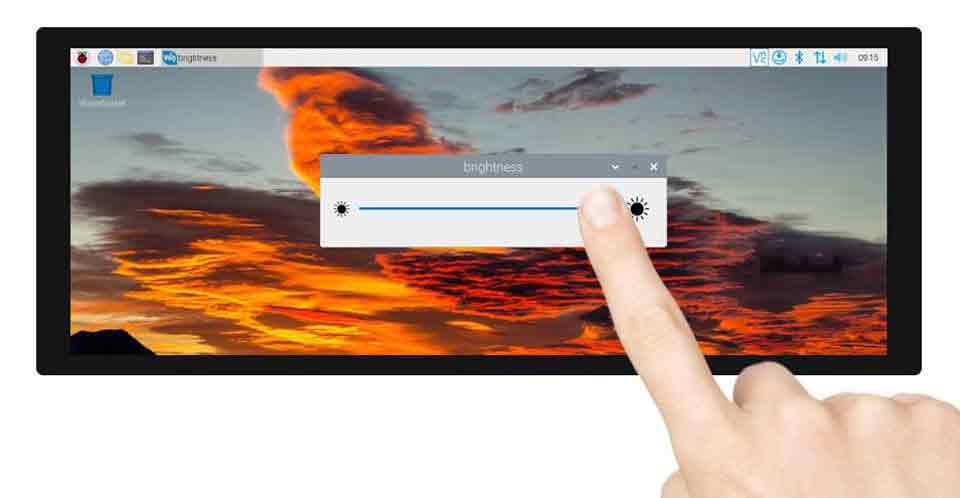 【Interface Introduction】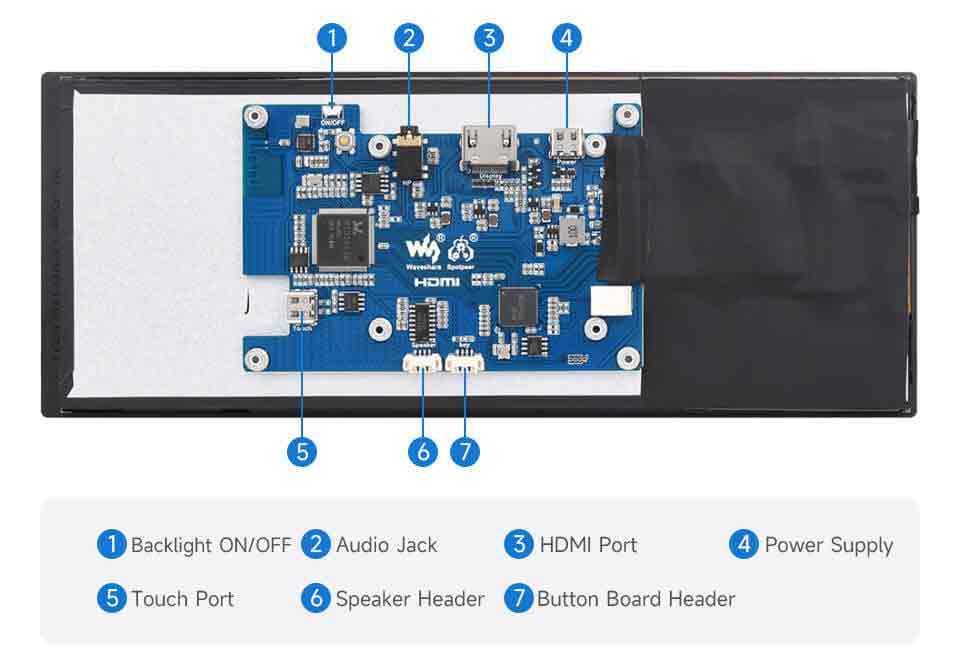 【Outline Dimensions】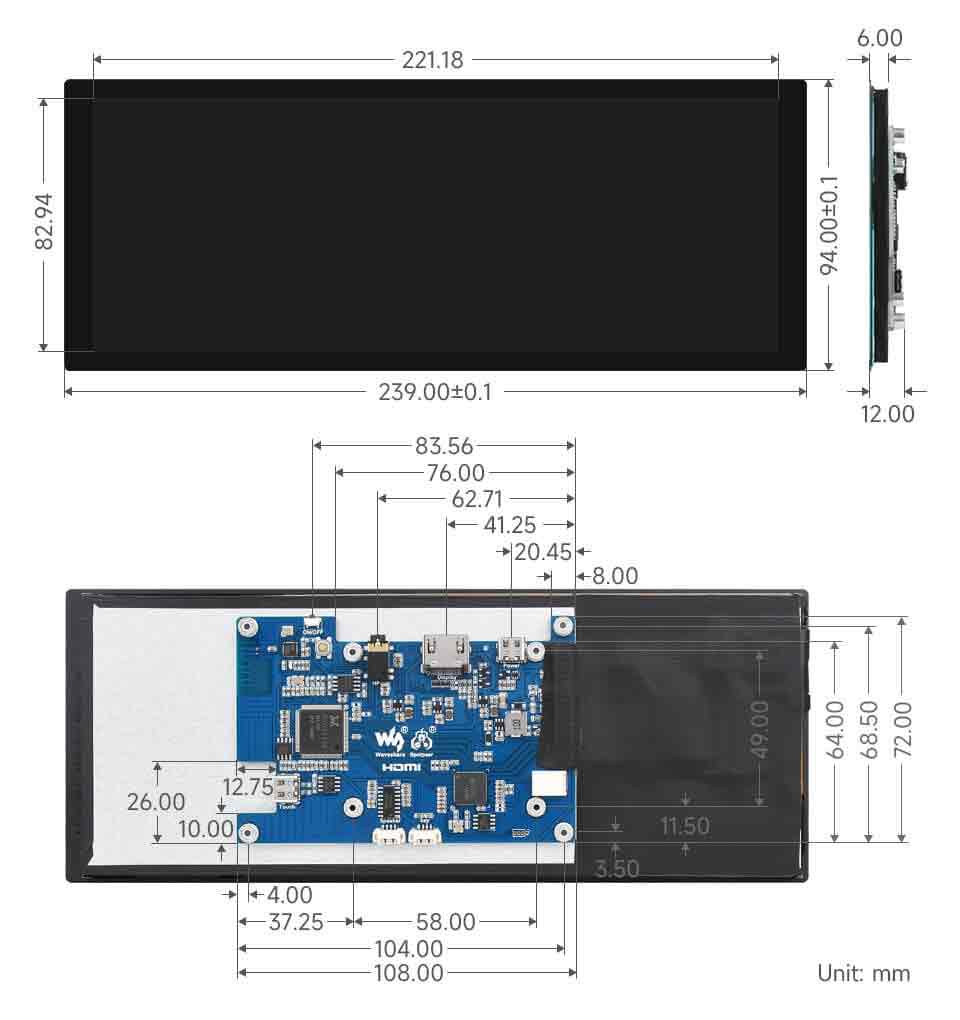 【Video】
视频