Overview



1. Large selection space: A20 core board, users can choose to configure wireless WIFI and camera.
Select functional modules according to the nature and needs of your own products to effectively control costs.
2. Rich interfaces, including USB, HDMI, SD card, SATA, infrared and other interfaces.
3. A wide range of applications: connected to a monitor and a mouse, it becomes a computer, and the office and entertainment can be carried out at the same time.
Learning as a development board, as a monitoring device, etc.
4. Good stability: This product is designed for the purpose of stability. Sudden power failure, unplugging and plugging in the power supply will not affect the performance of the board.
5. The software is 100% open source.
6. The schematic diagram is open source.
Specifications
Processor: ARM cortex A7 dual core
Graphics card: Mail 400, MP2 GPU Opengl2.0
Memory: 1GB DDR3 8G emmc
Video output: HDMI1080P HD output
Network: 10/100M Ethernet interface
Main interface: USB2.0*2 TF card slots*1 SATA interface*1 infrared*1
Other interfaces: 96 expansion pins support I2C/SPI/LCD and various sensors
Power supply: 5V2A DC power supply
Operating system: run Android/Ununtu, or other versions of linux, and the system is pre-installed with Android or Ubuntu
Hard decoding resolution: 2106P (4K ultra-clear
Storage support: Built-in 8G emmc flash memory, maximum support for 64GB expansion USB card, maximum support for 2TB hard disk with 2.5SATA interface
Basic configuration
CPU operating frequency: Cortex-A7 dual-core architecture, 1GHz
CPU model: Allwinner A20
GPU: Mali-400 MP2 multi-core GPU (graphics card)
1GB DDR3 memory 8G EMMC flash memory
4GB high-speed flash memory (hard disk)
Multimedia capabilities
HD H.264 2160P video decoding (decoding)
Full HD video decoding
BD Directory, BD ISO and BD m2ts video decoding
H.264 High Profile 1080P@30fps encoding (encoding)
3840×1080@30fps 3D decoding
Complies with RTSP, HTTP, HLS, RTMP, MMS streaming media protocol
Display output
HDMI1.4 output resolution: 1080P (1920×1080)
Support HDMI to VGA
Support MPEG-4/H.263/H.264/VC1/Xvid and other video encoding formats up to 1080P@30 frames per second
LCD interface: support RGB88 mode, support resistive/capacitive touch, support LVDS (requires external module)
Standard interface
Audio output: 3.5mm audio socket
Audio input: line in
HDMI: Standard HDMI prefix=st1 1.4a
USB 2.0 Host: 2 USB Type A ports
MiniUSB 2.0 interface (otg) compatible with 1.1
SD card holder: TF card
Ethernet: RJ45 interface, support 100/10M adaptive
Power interface 1: specification: 4.0/1.7mm
SATA interface: can be connected to SSD solid state drive or ordinary hard drive
Pin socket
U14: 48pin 2.0mm pitch double-row needle, including LCD×1, LVDS×2, PWM, TP, UART×2, SPI×1, I2S×1, GPIO×37, EINT×4, GND 3.3V and other signals
U15: 48pin 2.0mm spacing single header, including I2C, SPI, CSI/TS, FM-IN, ADC, CVBS, VGA, SPDIF-OUT, R-TP
UART serial port: 1 way, 2.0mm pitch header (UART0)
SATA5V: dedicated to power SATA hard drives (can be controlled in software)
Motherboard Size/Process
PCB size: 100×60mm
Immersion Gold Craft
Additional resources
Keys: 2 Reset, FEL (upgrade key)
User Programmable LEDs: 2
IR infrared receiving head: 1
Function extension
3G Internet access (external 3G Internet card)
WiFi (external module)
Bluetooth (external module)
RTC real time clock
SATA hard disk: the maximum can be connected to 2T (2.5 inches)
Hardware description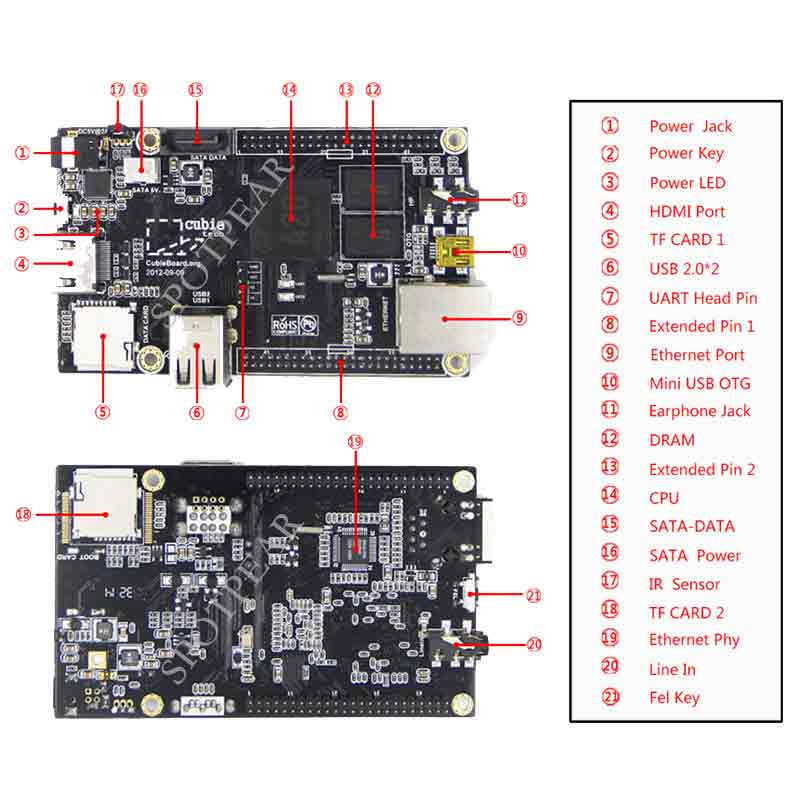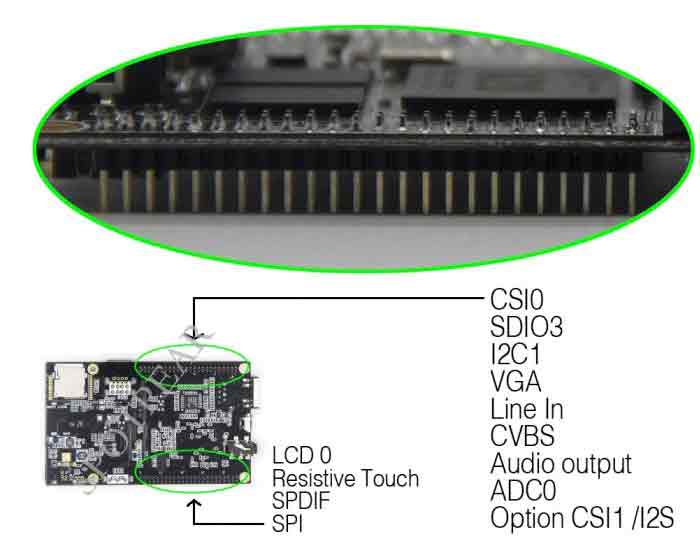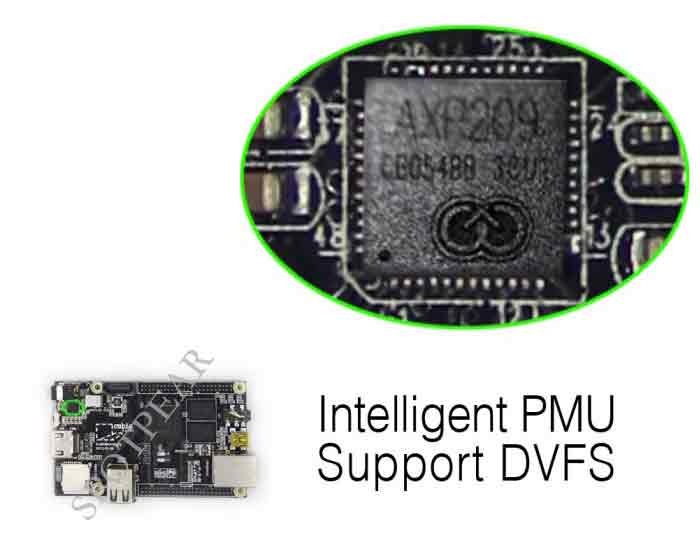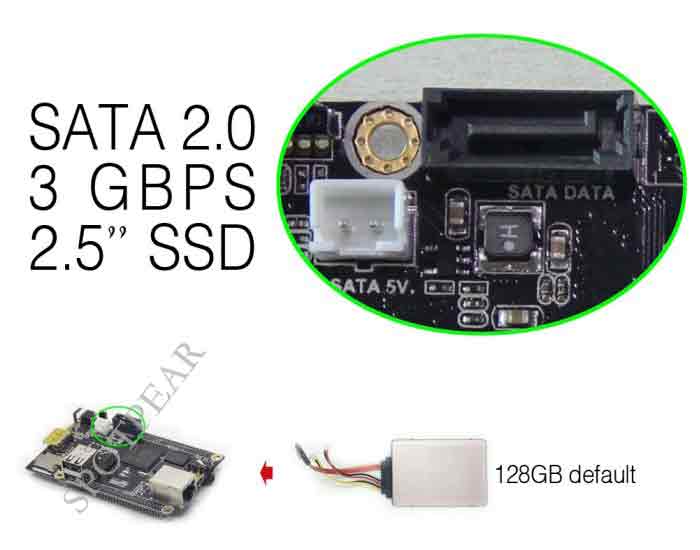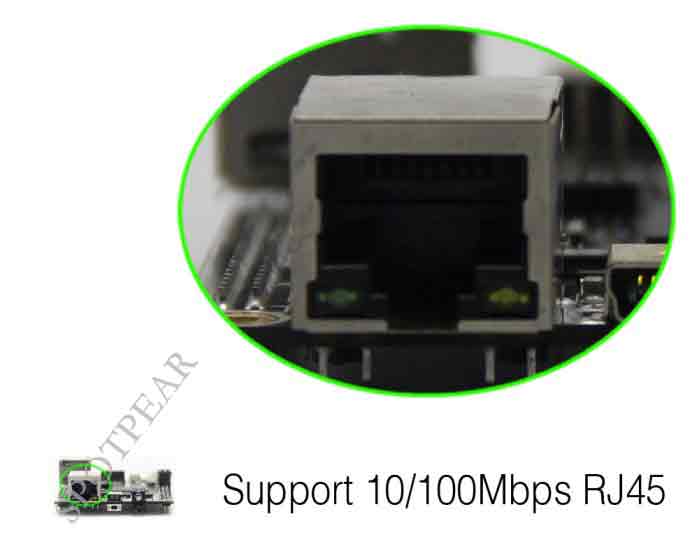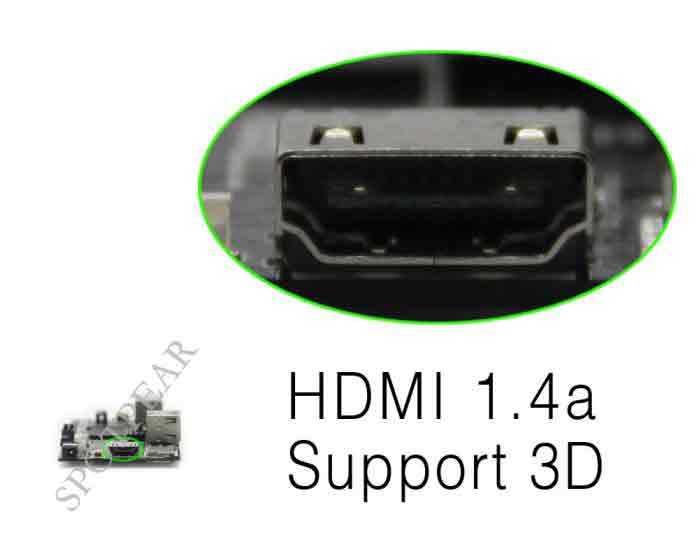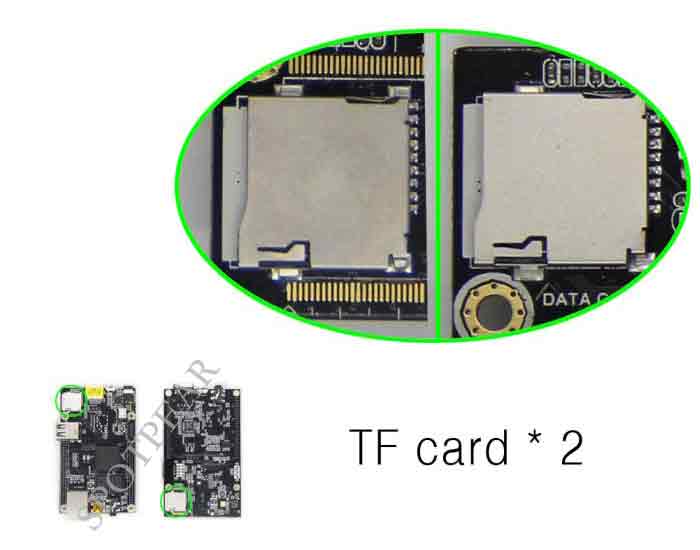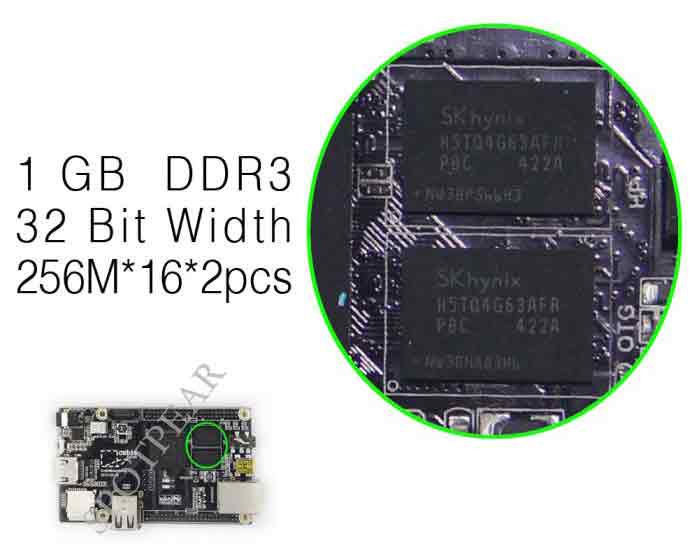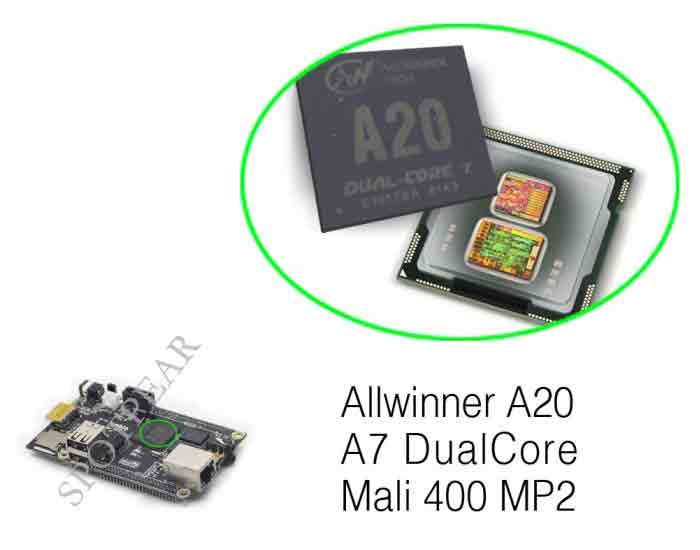 96 external pin definitions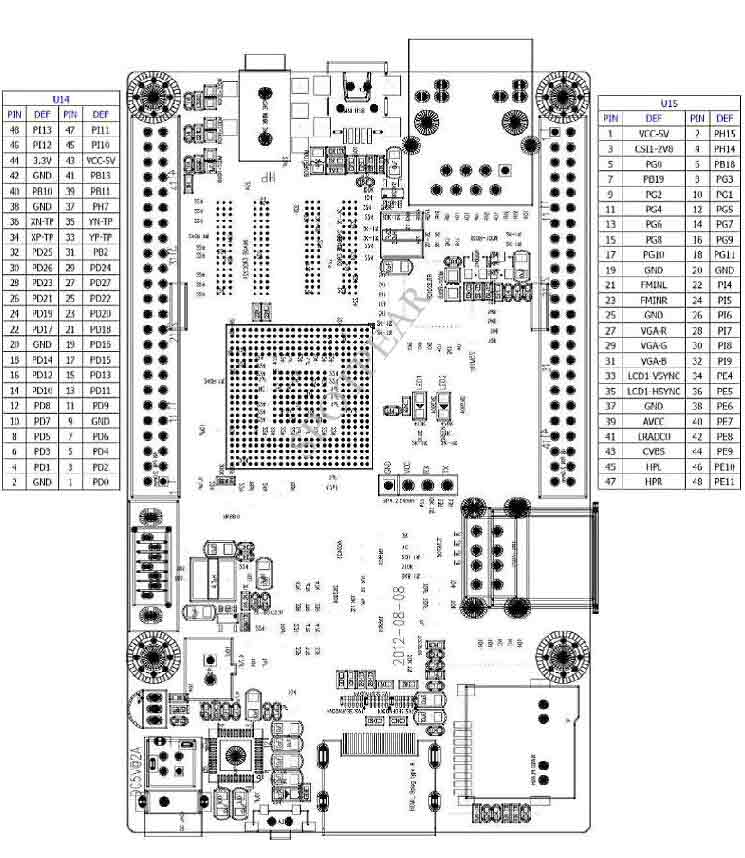 Application Scenario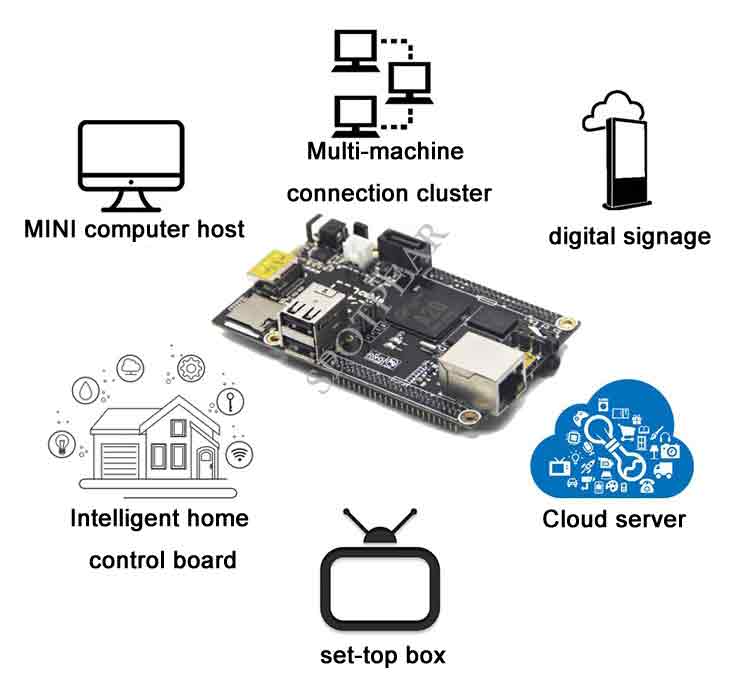 Outline Dimensions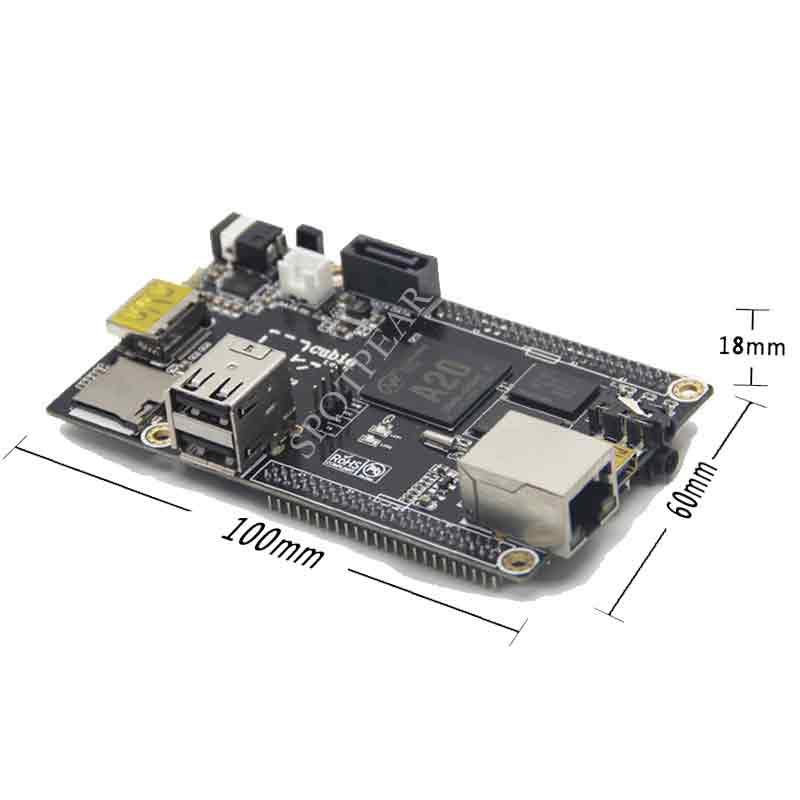 Video